Italo Ferreira, who learned to surf on a styrofoam cooler lid in Baía Formosa, Brazil, has gone on to become the first-ever surfing Olympic gold medalist.
He was joined atop the podium by one of the greatest athletes in surf, four-time World Champion Carissa Moore, who also made history, claiming the women's gold.
"The scale of this event felt so much bigger," said Moore. "Getting to share the sport with so many people that maybe have never even watched surfing was super special. As a Hawaiian, just seeing Duke Kahanamoku's dream come true to have surfing in the Olympics is super special. It's a big time for surfing to be recognized on this level."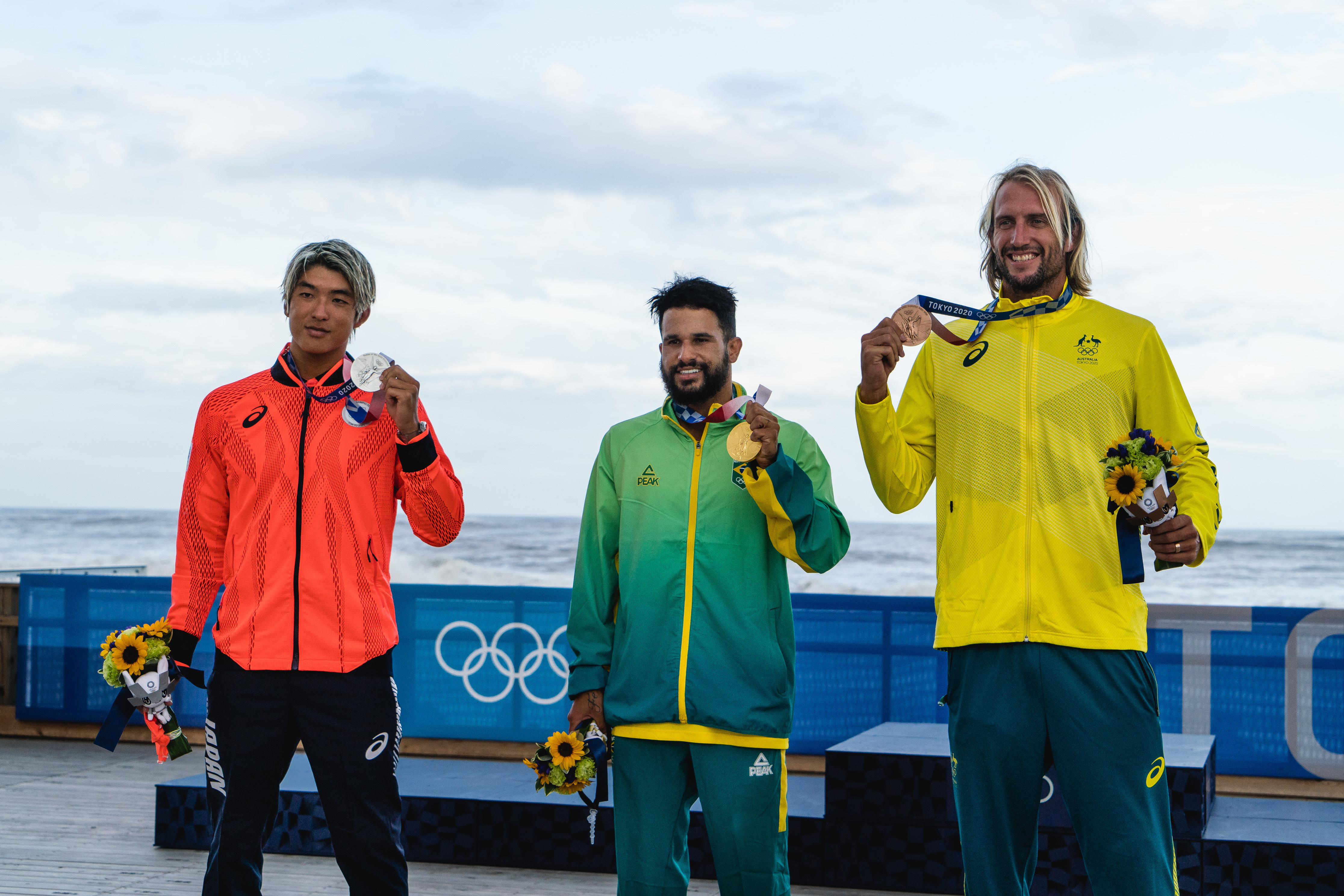 Surfing's first men's Olympic medalists (left to right): Kanoa Igarashi, Italo Ferreira and Owen Wright. – Pablo Jimenez / ISA
For Ferreira, the win caps off a fairytale ascendancy as he's gone from 2019 World Champion to Olympic gold medalist. Meanwhile, for Moore, the honor secures her place as one of the best athletes surfing has ever seen after defeating South Africa's Bianca Buitendag in the gold medal match.
"All of my accomplishments have been important to me, but I think this Olympic Gold means the most because I was the first one," said Ferreira. "But all surfers made history here. Every surfer has a piece of this Gold Medal."
"This has been quite a story for me. I started surfing on a cooler top when I was a kid before I got my first real board and won my first event. Because of [my upbringing] I have a lot of passion for the sport."
"I truly believe that the Olympics will change our lives. Not just the medalists, but for all the surfers that competed in this historic event."
Surfing's first women's Olympic medalists (left to right): Bianca Buitendag, Carissa Moore and Amuro Tsuzuki – Pablo Jimenez / ISA
Moore was one of the clear favorites for a gold medal, and once again she delivered on the weight of expectation on her shoulders. Drawing clean lines and power carves in the scattered beachbreak peaks, all day long she was able to walk the fine line between competitive focus and a loose, free approach in the water.
Never one to shy away from a challenge, Ferreira broke his board on his first wave in the gold medal match, attacking a near-impossible closeout section like it was a playful one-foot wave.
This was a nightmare start, leaving Kanoa Igarashi – now a silver medalist – with the lineup to himself, and requiring yet another arduous paddle out through the relentless short-period swell.
Italo Ferreira's Olympic dream realized. – Sean Evans / ISA
The board could be seen in half before the wave had even fully detonated, meaning it was broken by the force of the impact of his fully-committed free-fall out of the lip.
Igarashi completed his first ride of consequence while Ferreira was getting reset in the lineup – earning a 3.83 which put him in the lead with 30 minutes to go.
But it didn't take Ferreira long to respond. Almost immediately after Igarashi took the lead, he linked together three strong turns on a larger wave. His new board looking good under his feet, he earned a 7.00 for the effort, establishing a solid gap between him and Japanese surfer.
Utilizing a different approach, in his previous heats Ferreira went straight for the airs, which are make or break. But in this first-ever Olympic final he dialed it back just a touch, enabling him to secure two decent scores before the halfway mark, freeing him up to look for the ramps his heart desires, launching like he was determined to break another board.
Japan's Kanoa Igarashi soaks up the moment after claiming the silver medal. – Sean Evans / ISA
With 90 seconds to go, Ferreira was already celebrating and the look on his face showed exactly what this win means.
In the women's gold medal final, the first score went to Moore, a 3.17. She quickly backed that up with a 3.40 in the challenging conditions. But it didn't take long for her to push the bar even higher. Earning a 7.33 for a very well surfed right-hander, she had Buitendag against the ropes.
Moore then went one better, locking in a 7.60. Steadily upping the ante, with five minutes left on the clock she was in clear control of her destiny. Holding on for the win, Moore is now an Olympic gold medalist and four-time World Champ – who's knocking on the door of a fifth Title later this season.
Japan had much to celebrat as Amuro Tsuzuki claimed Bronze in her home country – Ben Reed/ISA
Earlier in the day, Brazil's Gabriel Medina found himself in the bronze medal heat after a very narrow defeat to Igarashi in the Semifinals. Trailing most of their heat Igarashi launched a hail mary air, stuck the landing and ended up beating Medina by a mere 0.24 points.
Australia's Owen Wright also faced a tight battle in the Semis, defeated by Ferreira by just 0.7 points in a match-up that went right to the final seconds, after the Australian lost priority due to a mishap with a wash-through set which the judges deemed he'd attempted to ride.
But Wright managed to secure a bronze medal for Australia in the heat against Medina, earning a place a history as the first-ever Olympic surfing medalist.
It was Japan's Amuro Tsuzuki who won the women's bronze medal, after a strong heat against U.S.A.'s Caroline Marks.
Owen Wright, who won bronze, was the first-ever Olympic surfing medalist after beating friend and Rip Curl teammate Gabe Medina in the bronze medal heat. – Ben Reed/ISA
Marks didn't open her scoring account until 17 minutes into the heat, a 2.33. She backed this up with a 1.93, but Marks – one of the most talented surfers on the Championship Tour – struggled to find the right waves to open up on.
Tsuzuki, who earlier in the day eliminated one of the fiercest competitors in surfing, Sally Fitzgibbons, won an Olympic medal in her home country, in front of a giant audience – after also making her Championship Tour debut in 2021, this has been the best year of her young career yet.
After three straight days of competition in everything from waist-high wedges to overhead typhoon surf, history has been made and the first chapter of Olympic Surfing is officially in the books.
Tokyo 2020 Olympics Results
Women: Gold: Carissa Moore (USA) Silver: Bianca Buitendag (RSA) Bronze: Amuro Tsuzuki (JPN)
Men: Gold: Italo Ferreira (BRA) Silver: Kanoa Igarashi (JPN) Bronze: Owen Wright (AUS)