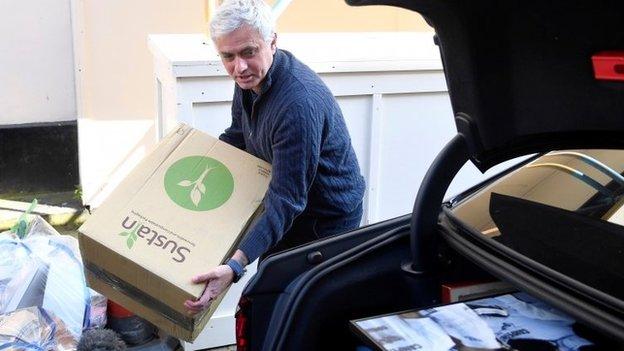 Jose Mourinho has been sacked by Tottenham after just 17 months in charge.
They are currently seventh, having picked up two points from their past three league games, and were knocked out of the Europa League in March.
Spurs face Manchester City in the Carabao Cup final on 25 April.
On Sunday, Tottenham were one of six Premier League clubs to announce they were joining a new European Super League, but it is not related to Mourinho's sacking.
Mourinho's coaching staff of Joao Sacramento, Nuno Santos, Carlos Lalin and Giovanni Cerra have also been sacked.
"Jose and his coaching staff have been with us through some of our most challenging times as a club," said Tottenham chairman Daniel Levy. "Jose is a true professional who showed enormous resilience during the pandemic.
"On a personal level I have enjoyed working with him and regret that things have not worked out as we both had envisaged.
"He will always be welcome here and we should like to thank him and his coaching staff for their contribution."
Is this the end of the Mourinho era in the Premier League?'
Is it time for Harry Kane to leave Spurs?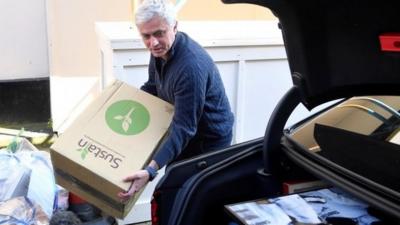 This season, Mourinho – who previously managed Manchester United, Chelsea, Real Madrid, Inter Milan and Porto – suffered 10 league defeats in a single campaign for the first time in his managerial career.
No Premier League side has lost more points from winning positions this season than Spurs, who have dropped 20.
Mourinho's last game in charge was a 2-2 league draw at Everton on Friday.
Former Spurs midfielder Ryan Mason, who has been working with the club's academy, will take first-team training on Monday.
What went wrong?
Mourinho was not the most popular appointment, but his standing among Spurs fans soared with his performances on Amazon documentary 'All or Nothing', which charted the club's 2019-20 season. And he became somewhat of a social media star with hisInstagram posts.
After re-signing Gareth Bale on loan, Spurs had enjoyed a promising start to the current season, including a 6-1 win against Mourinho's former club Manchester United at Old Trafford.
A 2-0 home win over north London rivals Arsenal in early December saw them go top of the Premier League, as Mourinho – a three-time Premier League and two-time Champions League winner – became only the second Spurs manager in history to win his first two north London derbies.
They weren't top for long, dropping back to second later that month with defeat by Liverpool.
Since then, Spurs have won seven of 19 league games, losing eight of them.
In February, they were knocked out of the FA Cup in a 5-4 quarter-final defeat by Everton, marking the first time a Mourinho side had conceded five goals since 2010.
They were beaten 2-1 at Arsenal on 14 March and four days later were eliminated from the Europa League, losing 3-2 on aggregate to Dinamo Zagreb having won the first leg 2-0.
Two weeks ago, Mourinho – who has earned a reputation as a master tactician and defensive-minded coach and is a former Fifa world coach of the year – refused to accept the blame for Spurs' dropped points.
"Same coach, different players," he said when it was pointed out to him how good his teams usually are at defending leads.
Jose Mourinho's managerial honoursClubMajor trophiesPorto (2002-04)Primeira Liga (x2), Champions League, Uefa Cup (now Europa League), Portuguese CupChelsea (2004-07 and 2013-15)Premier League (x3), FA Cup, League Cup (x3)Inter Milan (2008-10)Serie A (x2), Champions League, Coppa ItaliaReal Madrid (2010-13)La Liga, Copa del ReyManchester United (2016-18)Europa League, League CupTottenham (2019-21)None
Mourinho's Spurs stats
Jose Mourinho won just 51% of his games in charge at Tottenham in all competitions (44/86). Only with Leiria (45%) has he posted a lower win ratio with a single club during his managerial career.
Tottenham have lost 13 games in all competitions this season, which is the highest number of defeats Jose Mourinho has suffered in a single campaign as a manager.
During Mourinho's time at Tottenham, only Man City (130), Liverpool (117) and Manchester United (116) picked up more Premier League points than Spurs (95).
Only during the 2015-16 season with Chelsea (0.9) and 2018-19 with Man Utd (1.5) has a Mourinho side averaged fewer points per game in a league season than Spurs in 2020-21 (1.6).
Only Brighton (31) and Southampton (30) dropped more points from winning positions in the Premier League during the period Mourinho was in charge at Tottenham (27).
Eleven of the 20 points dropped from winning positions this season have come from goals conceded in the final 10 minutes of matches.
Mourinho leaves Spurs with a record of 27 wins, 14 draws and 17 defeats from 58 Premier League games.
Of all managers to take charge of 10 or more matches for Tottenham in the Premier League, only Tim Sherwood (1.91), Mauricio Pochettino (1.89), Andre Villas-Boas (1.83) and Harry Redknapp (1.74) have averaged more points per game than Mourinho (1.64).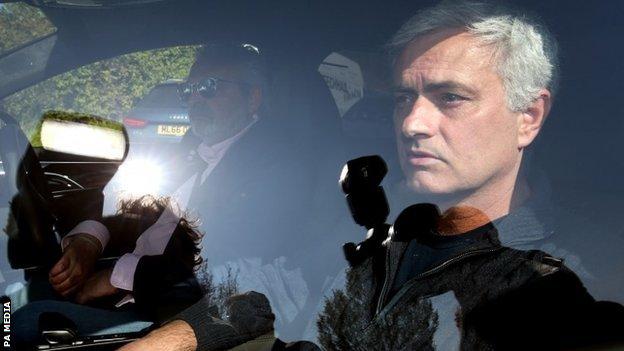 Flames on the Frontline: Big Narstie explores the impact of the Brixton Riots
Is knowingly spreading an infectious disease a crime?: Find out on the Bad People podcast