Whether ladled over piping hot pasta or spooned atop fresh Italian bread, pasta sauce is a common pantry staple that's as versatile as the recipes that call for it. The problem? Marinara is more than just crushed tomatoes, and a good jar of sauce can be hard to find.
After all, any and every supermarket seems to stock up on countless offerings. That's why we decided to spare you the guesswork by dipping a slice of fresh sprouted toast (over ciabatta, because health!) into 11 popular pasta sauces. We ranked each one based on nutrition, clean ingredients, appearance and consistency, and of course, taste.
Yes, we tested 11 pasta sauces so that you don't have to! We're just here to help you out, dear reader.
Below, you'll find all of the best pasta sauces, but if you're more interested in creating your own from scratch, check out the 100 Easiest Recipes You Can Make.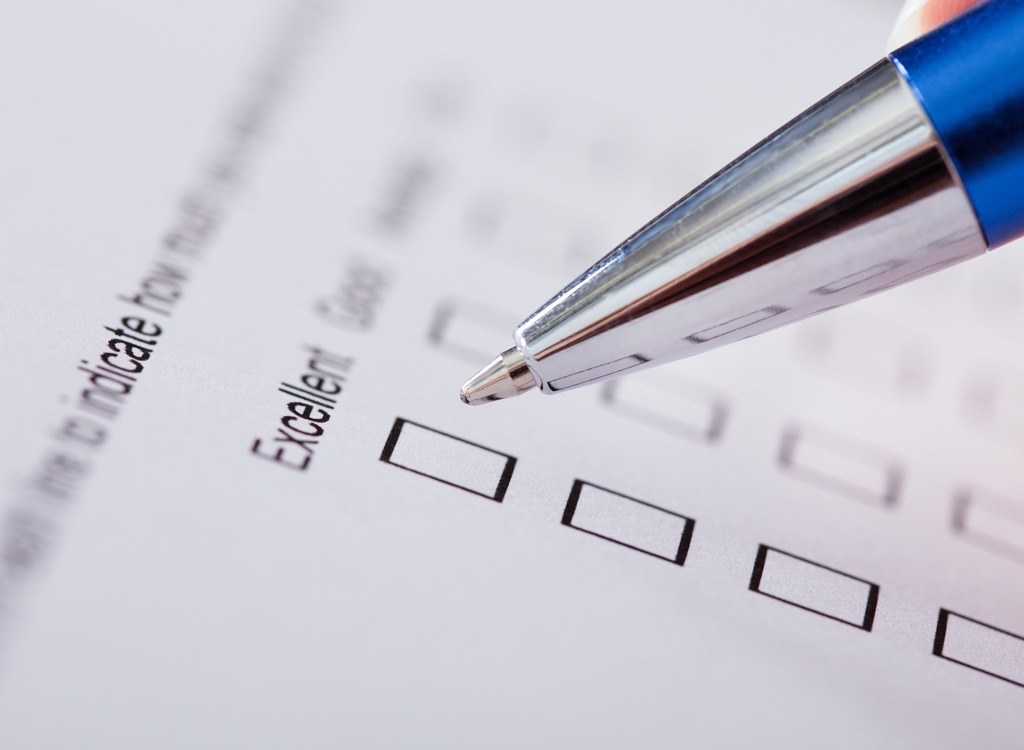 Here are the four metrics we used to determine each sauce's final grade:
Nutrition
We know that a dish of comforting pasta can be easily tarnished by a sauce that's stuffed with extra calories, sodium, and sugar. But what about fat? Tomatoes are brimming with vitamin A, a fat-soluble vitamin that requires some healthy oil for your body to fully reap its benefits. To sift the good sauces from the bad, make sure your pick packs omega-3-rich olive oil rather than inflammatory soybean and canola oils.
Clean Ingredients
The perfect pasta sauce requires a little more than just a fresh batch of tomatoes. We commend brands that blend aromatic spices and heart-healthy oils into their sauces but frown upon those that use inflammatory oils and unnecessary additives.
Appearance & Consistency
Pasta sauce should coat your noodles and effortlessly cling to your casserole's crevices. A thin and runny one simply won't do the trick and won't hold any flavor.
Taste
Probably the utmost important factor, taste plays a significant role when it comes to which sauce we decide to slather on our spaghetti. A winning marinara should be bursting with fresh flavors, boast a delicate sweet to salty to tart balance, and complement rather than overpower your culinary creation.
Here they are, from worst to best: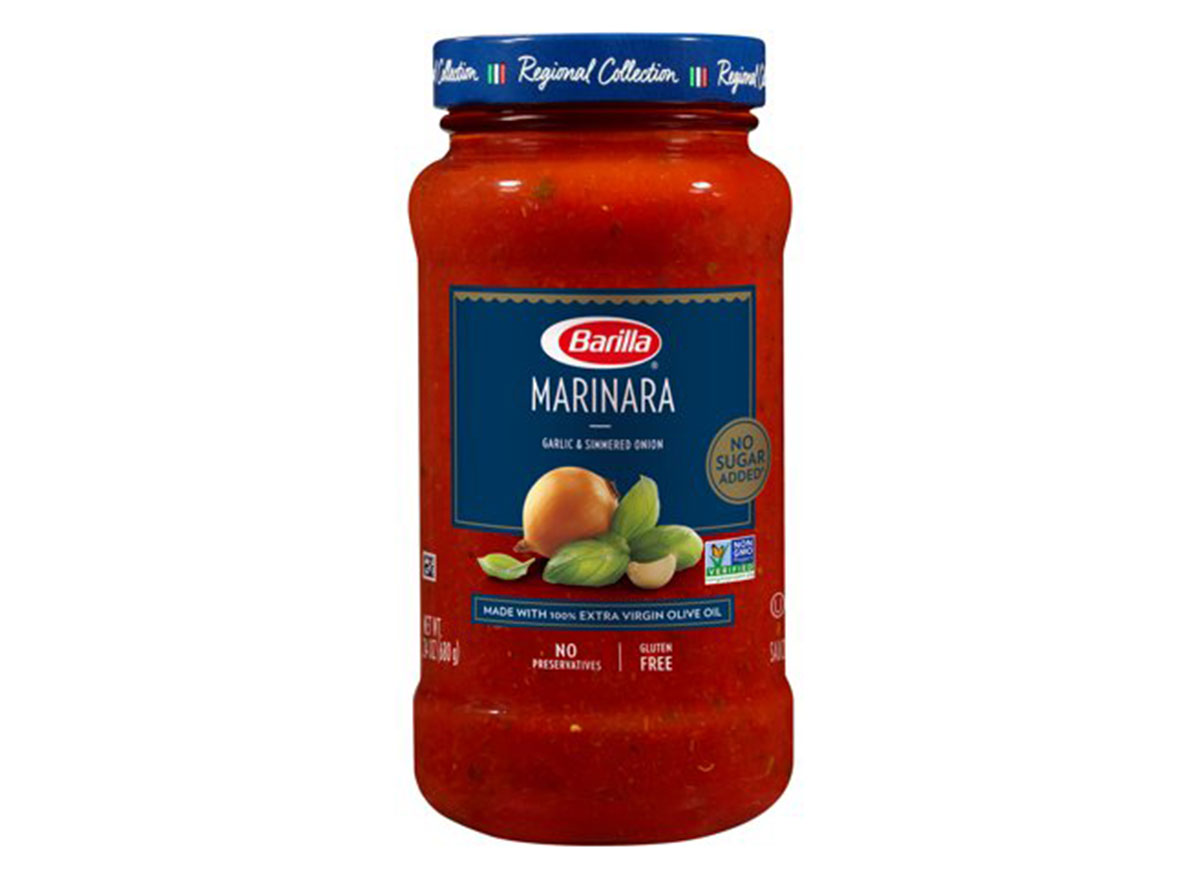 Ingredients: Diced Tomatoes In Tomato Juice, Tomato Purée (Water, Tomato Paste), Onions, Garlic, Sea Salt, Basil, Extra Virgin Olive Oil, Oregano, Citric Acid (Acidity Regulator), Natural Flavor
Appearance & Consistency: Barilla's rendition was a bit on the thick side. It was smooth due to the tomato purée.
Taste: If I could go back in time and undo dipping my spoon into this jar, or just putting the utensil down before it makes its way onto my tongue, or . . . you get the point. The oddly overwhelming garlic flavor and exceptionally bitter aftertaste made me wonder if I had just picked up a bad batch.
Eat This, Not That! Verdict:
If you're into that overpowering artificial tomato flavor coupled with excessive garlic and unmissable bitterness, this one's for you. Texture-wise, this sauce can coat your carbs well—but we're not sure if you'd be able to stomach them considering the sauce's disagreeable flavor notes.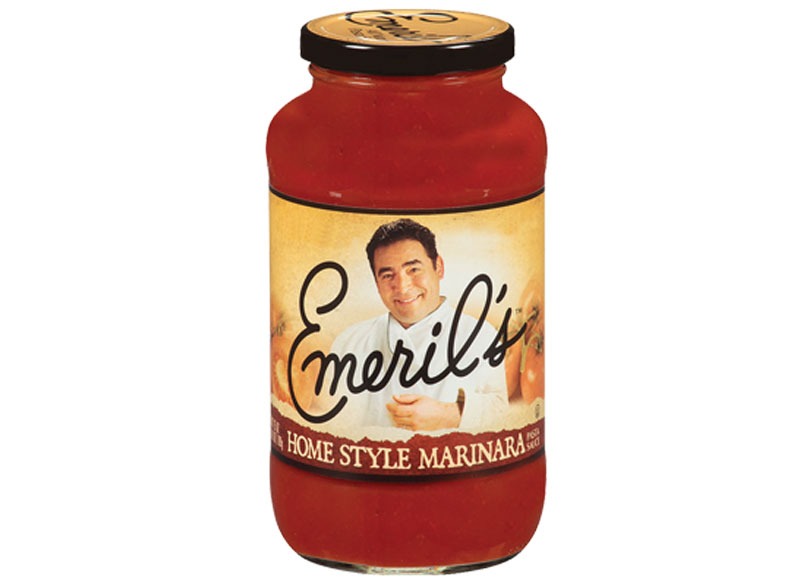 Ingredients: Tomato Purée (Water, Tomato Paste), Diced Tomatoes (Tomatoes, Tomato Juice, Citric Acid), Sugar, Soybean Oil, Salt, Minced Onions, Spice, Garlic Powder, Extra Virgin Olive Oil
Appearance & Consistency: Emeril's Homestyle Marinara is thick and significantly denser than the other offerings tested, which I liked. Its brick-like color and consistently puréed texture masked any potential spice sighting.
Taste: This is where Emeril's lost us. It was sweeter than any of the other saucy toppings I tested, which justifies the fact that sugar is the third ingredient on the list.
Eat This, Not That! Verdict:
Considering Emeril is an accredited chef, owner of 14 restaurants, and an honorary doctoral degree recipient, I expected his sauce to boast the rich flavors of quality spices and fresh tomatoes rather than excessive sugar. If you choose this sauce, I can't promise you won't experience some of these weird side effects of eating sugar.
RELATED: We Tasted 8 Bacon Brands & This Is the Best
Ingredients: Diced Tomatoes in Juice [Diced Tomatoes, Tomato Juice, Calcium Chloride (Firming Aid), Citric Acid], Tomato Purée (Water, Tomato Paste), Basil, Sugar, Extra Virgin Olive Oil, Onions, Salt, Garlic, Spices, Natural Flavors
Appearance & Consistency: Bertolli's sauce is like Christmas all bottled up: It's chock full of green basil flakes floating around in a deep red, extra chunky sauce.
Taste: Popping this jar open was like sticking my nose directly into a basil plant. Unfortunately, the nauseating level of sweetness overpowered both the bright basil and tomato.
Eat This, Not That! Verdict:
I wish this sauce were lower in sugar because it had massive potential—before I dolloped the stuff onto a slice of toast. The lumpiness (most likely due to the added calcium chloride) also didn't work in Bertolli's favor.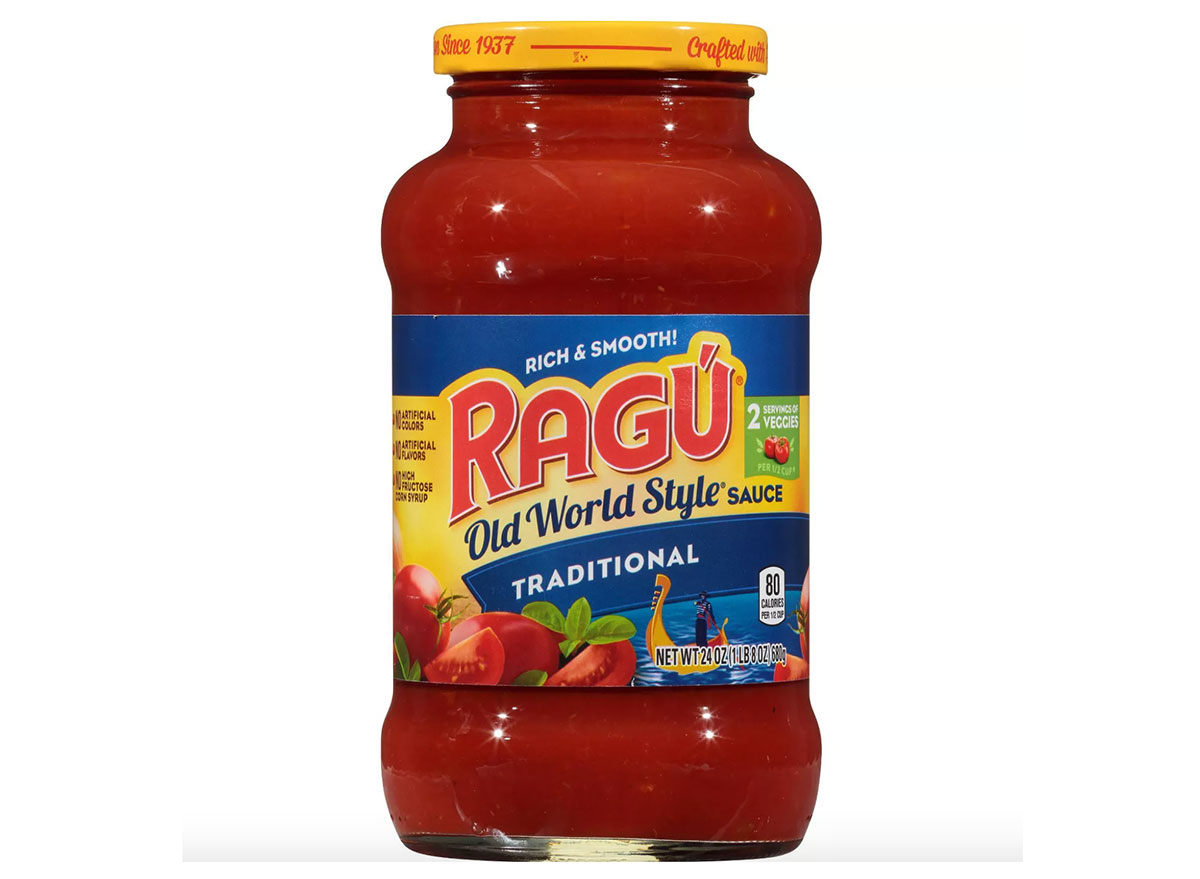 Ingredients: Tomato Purée (Water, Tomato Paste), Salt, Olive Oil, Sugar, Dehydrated Onions, Dehydrated Garlic, Spices, Garlic Powder, Onion Powder
Appearance & Consistency: Upon twisting open this jar of Ragú, I immediately noticed the chunks floating atop an otherwise runny orange-red sauce. One simple stir confirmed that this sauce isn't very hearty.
Taste: Average; mediocre; nothing special. This sauce didn't pack an extra umami punch, even though Ragú sprinkled romano cheese into the mix. In fact, it could've ranked a bit higher on this list if it slashed off a few grams of sugar.
Eat This, Not That! Verdict:
Though Ragú loudly spells out "Our Richest, Thickest Recipe" on its label, it definitely doesn't deliver. The added Romano cheese didn't lend any richness to this pasta topper, let alone thicken it up. Besides lacking in the taste and texture departments, Ragú didn't impress us nutritionally either, given that the sodium and sugar contents per serving are sky-high.
(And if you're looking for some healthy recipes, check out the easy way to make healthier comfort foods!)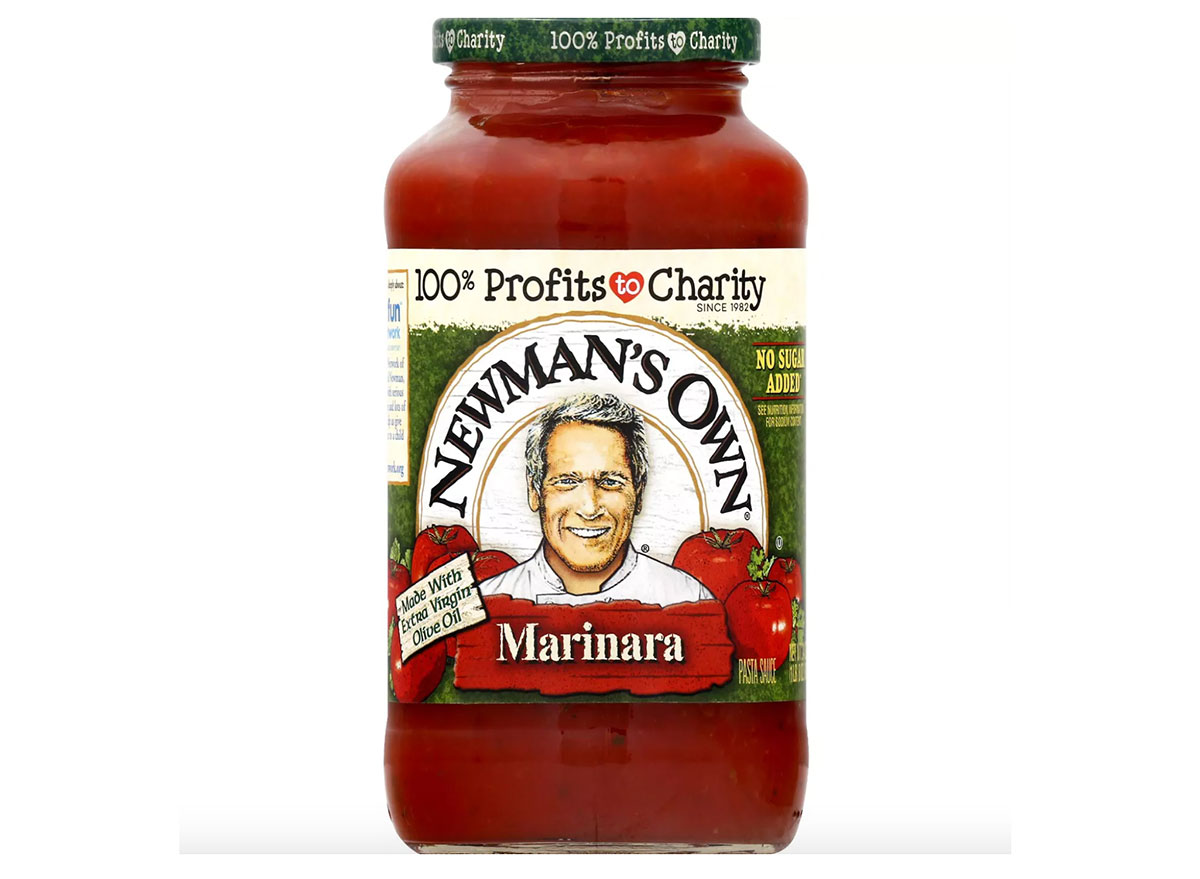 Ingredients: Tomato Purée (Water, Tomato Paste), Diced Tomatoes In Tomato Juice, Extra Virgin Olive Oil, Sea Salt, Onion, Basil, Garlic, Citric Acid, Black Pepper, Fennel Seed
Appearance & Consistency: A quick glance at the ingredient list, which essentially lists H2O first, explains why this sauce's consistency seems watered down.
Taste: The overly salty sauce's subpar flavor did not impress us at all. Despite the delicious ingredients it uses, Newman's Own doesn't taste like it's rife with garlic, onion, or robust spices.
Eat This, Not That! Verdict:
Newman's Own had a pleasant tomato basil scent that was quite reminiscent of a fresh Margherita slice. Much to our disappointment, it didn't taste like one. We're guessing this sauce would pair well with a heartier dish that can make up for its mediocrity. Three cheese lasagna, anyone?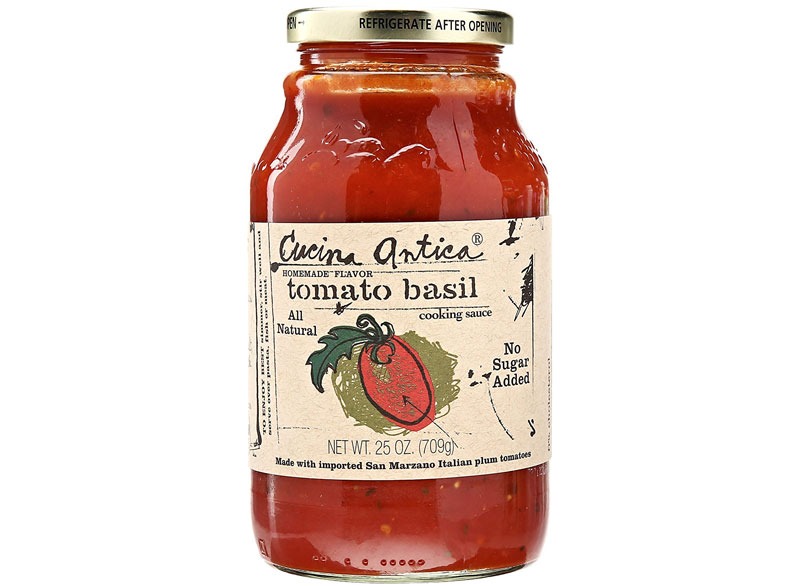 Ingredients: Imported Italian San Marzano Tomatoes, Tomatoes (Tomatoes, Tomato Purée, Salt), Onions, Extra Virgin Olive Oil, Salt, Basil, White Pepper, Black Pepper
Appearance & Consistency: As contradictory as it seems, Cucina Antica somehow managed to make a sauce that's simultaneously chunky and runny.
Taste: Tough the basil shreds were visible to the eye, they were undetectable to the taste buds. Unfortunately, this sauce was lacking the authentic flavor its packaging foreshadowed.
Eat This, Not That! Verdict:
Considering the rustic labeling and Italian name that translates to "antique kitchen," I expected this sauce to boast more pronounced Mediterranean flavors. Rather than getting a refreshing whiff of tomato and basil, my nostrils were hit with an unpalatable dish detergent scent. My colleague also affirmed that the taste is almost Windex-like. What in the world? To say the least, I was confused.
RELATED: We Tasted 9 Tomato Soups & This Is the Best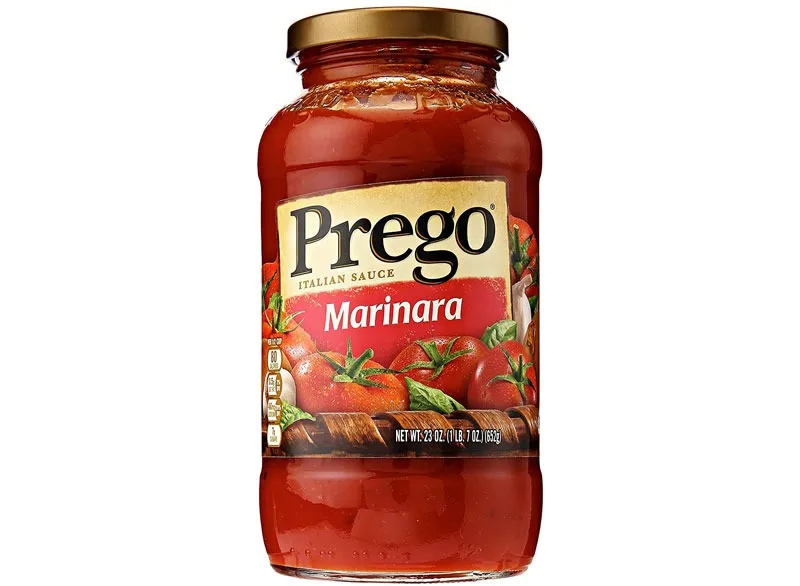 Ingredients: Tomato Purée (Water, Tomato Paste), Diced Tomatoes in Tomato Juice, Canola Oil, Salt, Dehydrated Onions, Dehydrated Garlic, Spice, Citric Acid
Appearance & Consistency: Everything you'd expect from a store-bought marinara: It's consistent texture- and color-wise and offers zero surprises in the form of spice flecks or garlic chunks.
Taste: Prego had a very classic, traditional flavor. Though it's packed with almost 500 milligrams of sodium, this sauce wasn't overwhelmingly salty and didn't hit us with overly sweet or acidic undertones.
Eat This, Not That! Verdict:
I really didn't expect to like this one as much as I did. Prego doesn't adorn its label with fancy lettering or mystifying health food buzzwords. But it does have a simple, well-balanced flavor that makes it versatile enough to be paired with fatty cuts of meat, lean seafood, and light veggies alike. If Prego swapped canola oil for EVOO, I would be all over this.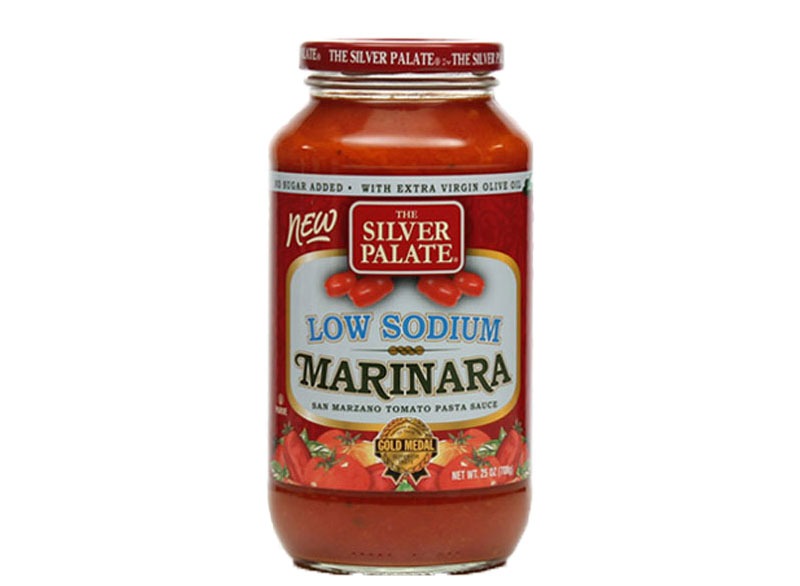 Ingredients: Imported San Marzano Whole Peeled Tomatoes, California Whole Peeled and Crushed Tomatoes, Extra Virgin Olive Oil, Fresh Onions, Fresh Carrots, Fresh Garlic, Pear Concentrate, Spices6254a4d1642c605c54bf1cab17d50f1e
Appearance & Consistency: Though the general consistency was light, albeit with sporadic tomato lumps, this sauce was jam-packed with spices by the looks of it. Not to mention, the fresh carrots added some crunchiness, which I can predict will work well in a slew of recipes.
Taste: Despite being the lowest in sodium of all our test panelists, The Silver Palate didn't disappoint my taste buds. Sure, it wasn't as umami-packed as some of the other picks, but it did boast unexpected fresh flavors (hello, pear!) and hearty spices.
Eat This, Not That! Verdict:
This pick is lacking sodium, but that doesn't mean it's not rife with flavor. Instead of relying on the heart-harming stuff, The Silver Palate's marinara takes advantage of quality ingredients, such as imported San Marzano tomatoes and EVOO, to lend the sauce its complexity. This surprisingly delicious sauce proves that you can keep the salt off your fork without compromising flavor.
Ingredients: Organic Diced Tomatoes, Organic Tomato Purée, Organic Garlic Purée (Organic Garlic, Water), Organic Extra Virgin Olive Oil, Organic Onions, Salt, Organic Garlic, Organic Basil, Organic Oregano, Organic Black Pepper
Appearance & Consistency: All of the star ingredients—garlic, onions, basil, and oregano—were eye-catchingly present in Whole Foods' organic marinara. Besides an occasional diced tomato, the sauce was generally thin.
Taste: While my palate picked up on all of the individual spices and alliums, the flavors lacked harmonization. This noodle smotherer tasted like it needed more time on the stovetop.
Eat This, Not That! Verdict:
This pick sort of reminded me of my own single attempt at marinara sauce, which involved my impatience inhibiting the spices to simmer long enough to actually marry. In other words, I expected Whole Foods to execute a better sauce than I ever have . . . but I can't deny that it was nonetheless tasty.
RELATED: We Tasted 9 Orange Juice Brands & This Is the Best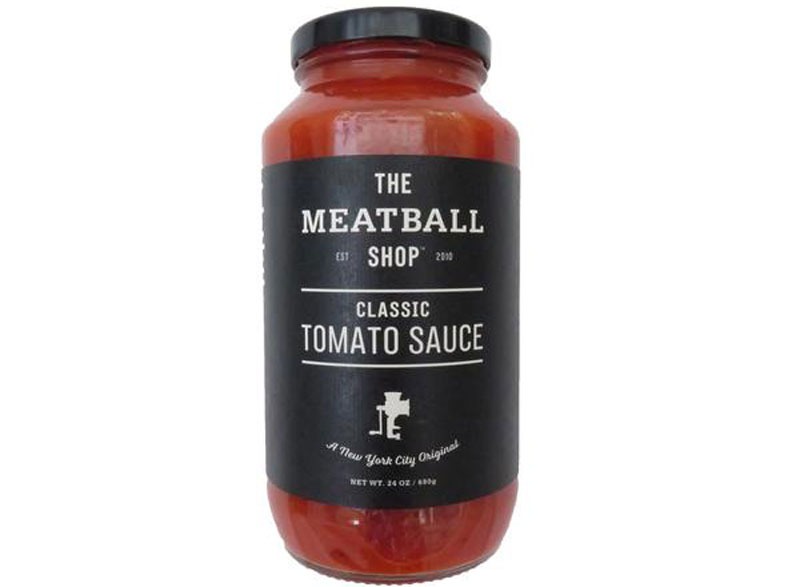 Ingredients: Imported Italian Whole Peeled Tomatoes, Fresh Onions, Olive Oil, Salt, Fresh Garlic, Oregano, Chili Flakes, Bay Leaves
Appearance & Consistency: Though this sauce did have some oil separation, a quick stir lent it the velvetiness I'd hoped for. Given the fact that I spotted a few minced garlic cloves floating around, I expected this to taste a lot like the allium.
Taste: Imagine you had the time to simmer fresh tomatoes and smoky spices on the stovetop. What a fantastic visualization, right?! Well, The Meatball Shop Classic Tomato Sauce will bless your plate of penne with homemade results sans kitchen time.
Eat This, Not That! Verdict:
If you're ever fortunate enough to walk into one of the swanky New York-based locations of The Meatball Shop, you'll realize how this sauce smells just like it. The topper was tangy and umami-rich, but surprisingly not spicy at all despite its inclusion of chili flakes. This sauce wasn't too robust or complex, rendering it perfect for meatballs (duh!) or ragù.
Ingredients: Italian Whole Peeled Tomatoes (Peeled Tomatoes, Tomato Purée, Salt, Basil Leaf), Olive Oil, Onions, Salt, Garlic, Basil, Black Pepper, Oregano
Appearance & Consistency: I can happily report that I didn't spot any ingredient chunks floating, and the texture was consistent without being overly thick or runny. All the spices and veggies were visibly present, and I couldn't help but notice the olive oil glistening gold in the light. A simply beautiful sauce!
Taste: If my taste buds could jump for joy, oh how they would! Rao's Homemade Marinara tasted just like meatballs.
Eat This, Not That! Verdict:
Italian grannies everywhere, meet your rival! This sauce held up to the bread well, it was perfectly salted, and its sweet to tart ratio and robust umami flavor simply blew it out of the park. Though Rao's is filled with enough oil to glisten as noticeably as Edward Cullen in sunlight, the slow-simmered sauce uses heart-loving olive oil only. Because it's higher in healthy fats than many other offerings, this sauce would best complement lean meat, seafood, and zoodles . . . or just a plain old spoon. Yes, actually, I'm guilty of slurping up an entire serving of this stuff sans bread and all spoon. Sorry, not sorry!