Last updated: February 7, 2022 at 9:39 a.m.
See more: Covid 19 assessment centre toronto
Due to the widespread transmission of COVID-19 in Toronto, there are not enough tests available for everyone who has symptoms. If you have symptoms of COVID-19 or were exposed to the COVID-19 virus, follow these steps to take care of yourself and protect others:
Confirm if you need to isolate
Get tested for COVID-19, if you are eligible
Inform your close contacts of their exposure
Note: OHIP coverage is not needed for COVID-19 assessment or testing. Toronto Public Health offices are not assessment centres. COVID-19 testing is not provided at Toronto Public Health offices.
Testing Locations & How to Access Your Test Results
Visit the Ministry of Health's website on more information on COVID-19 testing and testing locations, including how to get your test results.
Indigenous-led COVID-19 Testing
Indigenous peoples can now receive integrated COVID-19 testing, including case management, contract tracing, outreach supports, and referrals at Auduzhe Mino Nesewinong, an Indigenous-led COVID-19 assessment and testing centre or through Anishnawbe Health Toronto mobile healing unit.
Assessment Centre Details Auduzhe Mino Nesewinong (Place of Healthy Breathing)
View more: Queen Letizia of Spain dons a Ukrainian folklore blouse as she chairs an event in Madrid
Comprehensive First Nations, Inuit and Métis specific COVID-19 response program
Address: 22 Vaughan Rd.
Hours:
Monday from 1 p.m. to 5 p.m.
Wednesday from 2:30 p.m. to 4:30 p.m.
Friday from 10 a.m. to 2 p.m.
Telephone: 416-654-4184
Age Restrictions: None
This clinic is designed to address barriers in culturally safe access for First Nations, Inuit and Métis (FNIM); or people who live with and, or, work closely with FNIM people.
To book an appointment or make a referral please call 416-654-4184 or email appointments@healthybreathing.co.
View more: C-Rations The first Happy Meal
More information.
Anishnawbe Health Toronto Mobile Healing Team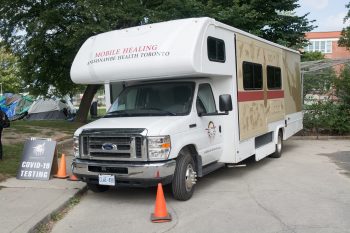 Locations, dates and hours:
Events calendar for locations and hours
For questions please call 416-920-2605 x 269
Understanding your COVID-19 Test Result
Based on the results of your PCR or Rapid Antigen Test (RAT), do the following:
Positive PCR
You have COVID-19. Visit our page for people who have COVID-19 to find out how long you and your household members need to self-isolate and for other important information.
Negative PCR
You likely do not have COVID-19 and you can end self-isolation when your symptoms have been improving for 24 hours (48 hours for nausea, diarrhea, or stomach pain). Your household members can also stop self-isolating if as long as they do not have symptoms of COVID-19.
Positive RAT
You most likely have COVID-19. Visit our page for people who have COVID-19 to find out how long you and your household members need to self-isolate and for other important information. Positive RATs do NOT need to be confirmed by PCR/rapid molecular test and do not need to be reported to the public health unit.
Negative RAT
If you have COVID-19 symptoms, a single negative RAT test does not mean that you do not have COVID-19 infection.
If you have COVID-19 symptoms and two consecutive RATs, separated by 24-48 hours, are both negative, it is less likely you have a COVID-19 infection. Self-isolate until you no longer have fever and your symptoms are improving for at least 24 hours (or 48 hours if gastrointestinal symptoms). In this situation, your household members may also discontinue self-isolation, as long as they are asymptomatic.
Note: if you are a close contact of a COVID-19 case, you must follow What To Do If You Are a Close Contact guidance.
Returning from Travel Abroad
Testing After Travelling Abroad
Travelers entering Canada, regardless of citizenship, must follow testing and quarantine requirements to keep everyone safe.
COVID-19 testing may be required before departure, upon arrival, and following arrival. Further information about returning to Canada from abroad can be found on the Government of Canada website: COVID-19 travel, testing, quarantine and borders .
COVID-19 Testing for Children
Children are only to be tested at a COVID-19 Assessment Centre if they meet the ministry of health's eligibility criteria for molecular testing. All children/students are to complete the TPH COVID-19 Screening for Students/Childcare before entering the childcare/JK-12 school setting, and to follow the advice set out in the document. They may have access to symptom based Rapid Antigen Tests (RAT) through their child care/school setting. Based on supply, students who have symptoms may also have PCR take home tests made available to them through their school.