Altered cellular profiles across COVID-19 severities
We generated single-cell combined transcriptome and surface proteome data from peripheral blood mononuclear cells (PBMCs) from individuals with asymptomatic, mild, moderate, severe and critical16 COVID-19 across three UK centers in Newcastle, Cambridge and London (Fig. 1a, Extended Data Fig. 1a and Supplementary Table 1). Controls included healthy volunteers, individuals with non-COVID-19 severe respiratory illness and healthy volunteers administered with intravenous lipopolysaccharide (IV-LPS) as a surrogate for an acute systemic inflammatory response (Fig. 1a and Supplementary Table 2). We sequenced 1,141,860 cells from 143 samples. Following computational doublet removal, 781,123 cells passed quality control (QC; minimum of 200 genes and <10% mitochondrial reads per cell; Extended Data Fig. 1b). Data were integrated using Harmony17 with good mixing of cells by the kBET statistic calculated for each cluster across samples (rejection rate improved from 0.62 to 0.36 following integration, P < 2.1 × 10−8 by Wilcoxon paired signed-rank test; Extended Data Fig. 1c,d).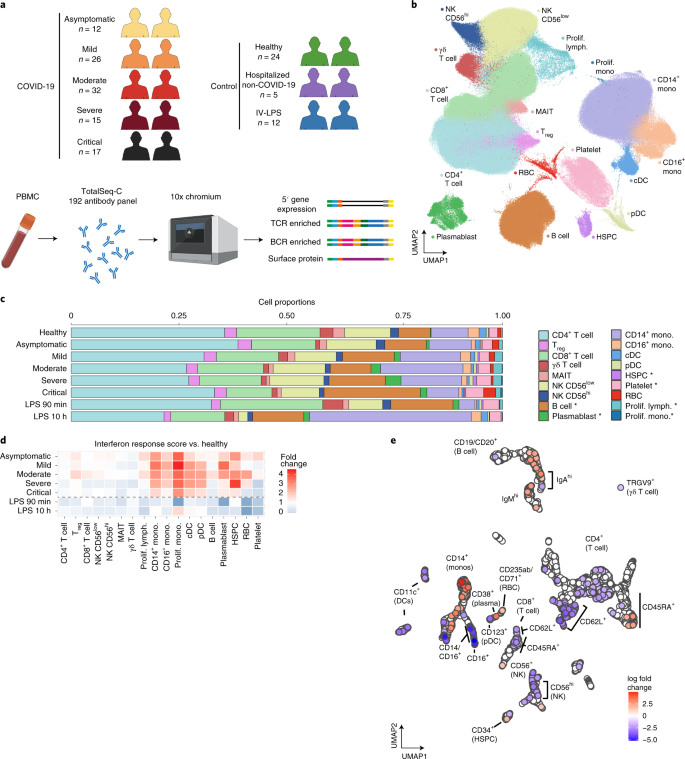 Following Leiden clustering, cells were manually annotated based on the RNA expression of known marker genes supported by surface protein expression of markers employed in flow cytometry to discriminate subpopulations (Extended Data Fig. 1e). We defined 18 cell subsets (Fig. 1b), with an additional 27 cell states identified following subclustering (Figs. 1b, 2a, 3a,b and 4a,b and Supplementary Table 3). Our annotation was further validated using Azimuth, whereby more than 50% of cells were mapped and matched to a unique cluster in 32/33 of the clusters defined in the Azimuth PBMC dataset (Methods; proliferating CD8+ T cells mapped across two clusters). Clusters unique to our data included proliferating monocytes, innate lymphoid cell subpopulations and isotype-specific plasma cells (Extended Data Fig. 1f).
We observed a relative expansion of proliferating lymphocytes, proliferating monocytes, platelets and mobilized hematopoietic stem and progenitor cells (HSPCs) with worsening disease. Plasmablasts and B cells were expanded in severe and critical disease (Fig. 1c and Extended Data Fig. 2a). These changes matched trends in clinical blood cell counts (Extended Data Fig. 2b and Supplementary Table 4). To assess the broader impacts of patient characteristics and clinical metadata on the altered proportion of cell types/states, we used a Poisson linear mixed model (Methods), which predicted the COVID-19 swab result (Bonferroni-corrected logistic regression (BF-corrected LR), P = 1.1 × 10−3; Methods), disease severity at blood sampling (BF-corrected LR, P = 8.9 × 10−8) and center (contributed by increased red blood cells (RBCs) and reduced monocytes in the Cambridge patient cohort; (BF-corrected LR, P = 2.0 × 10−142) as the main contributing factors among seven different clinical/technical factors (Extended Data Fig. 2c). PBMC composition varied depending on symptom duration, with increased relative frequency of plasmacytoid dendritic cells (pDCs), natural killer (NK) cells, CD14+ and CD16+ monocytes (false discovery rate (FDR), 10%) and decreased relative frequencies of B cells, regulatory T (Treg) cells, RBCs, platelets and CD4+ T cells, with a longer symptomatic interval before hospital admission (Extended Data Fig. 2d). These changes may be due to a subset of individuals in the critically ill category who reported a longer time since symptom onset, consistent with a protracted course of infection in critical disease (Extended Data Fig. 2e,f). However, concordant changes in immune cell composition were observed when excluding patients with either the longest symptom durations (>24 d) or critical disease (Extended Data Fig. 2g), indicating that disease severity changes were not driven by symptom duration. Cell abundance results were also in agreement when performing a leave-one-out analysis (Extended Data Fig. 2h).
We observed expression of type I/III interferon response genes in monocytes, DCs and HSPCs across the spectrum of COVID-19 severity, but not in individuals challenged with IV-LPS, in keeping with the importance of type I and III interferons in innate immune responses to viral infection (Fig. 1d). Type I/III interferon response-related genes were recently implicated in genome-wide association studies (GWAS) for COVID-19 susceptibility18,19. IFNAR2 was both upregulated in individuals with COVID-19 compared to healthy controls in most circulating cell types and highly expressed by plasmablasts, monocytes and DCs (Extended Data Fig. 2i).
Multiplexed analysis of 45 proteins in serum showed two contrasting profiles between mild/moderate and severe/critical patients. CCL4, CXCL10, interleukin (IL)-7 and IL-1α were associated with severe and critical disease, suggesting an augmented drive for monocyte and NK lymphocyte recruitment, as well as support for T cell activity/pathology (Extended Data Fig. 2j and Supplementary Table 5).
We used Cydar20 to characterize the immune landscape changes with disease severity based on surface protein expression by dividing cells into phenotypic hyperspheres. We quantified the number of cells from each severity group within the hyperspheres, identifying 608 hyperspheres that differed significantly in abundance with increasing severity (spatial FDR < 0.05; Fig. 1e). Differentially abundant hyperspheres were present in all major immune compartments. Notably, we found an increase in B cells (CD19+/CD20+), plasma cells (CD38+) and HSPCs (CD34+), as well as remodeling of the myeloid compartment13 (Fig. 1e).
Mononuclear phagocytes and HSPC changes
Transcriptome and surface proteome analysis of blood mononuclear phagocytes (MPs) identified known DC subsets (pDC, ASDC (AXL+SIGLEC6+ DC), DC1, DC2 and DC3) and several monocyte states (Fig. 2a,b). Three CD14+ monocyte states were present (proliferating, classical CD14+ and activated CD83+) in addition to two CD16+ monocyte states (nonclassical CD16+ and C1QA/B/C+CD16+; Fig. 2a,b). Proliferating monocytes and DCs expressing MKI67 and TOP2A were increased with disease severity (Fig. 2a,b). In contrast, the frequencies of DC2 and DC3 were reduced. Proliferating monocytes, previously reported by flow cytometry analysis of blood from patients with COVID-1914, transcriptionally resembled CD14+ monocytes and was the only population to change significantly with symptom duration. (Fig. 2a,b and Extended Data Fig. 3a). Proliferating DCs resembled the DC2 subset (Fig. 2a,b). Rare C1QA/B/C-expressing CD16+ monocytes were the only source of C1 complement components (Fig. 2b and Extended Data Fig. 3b).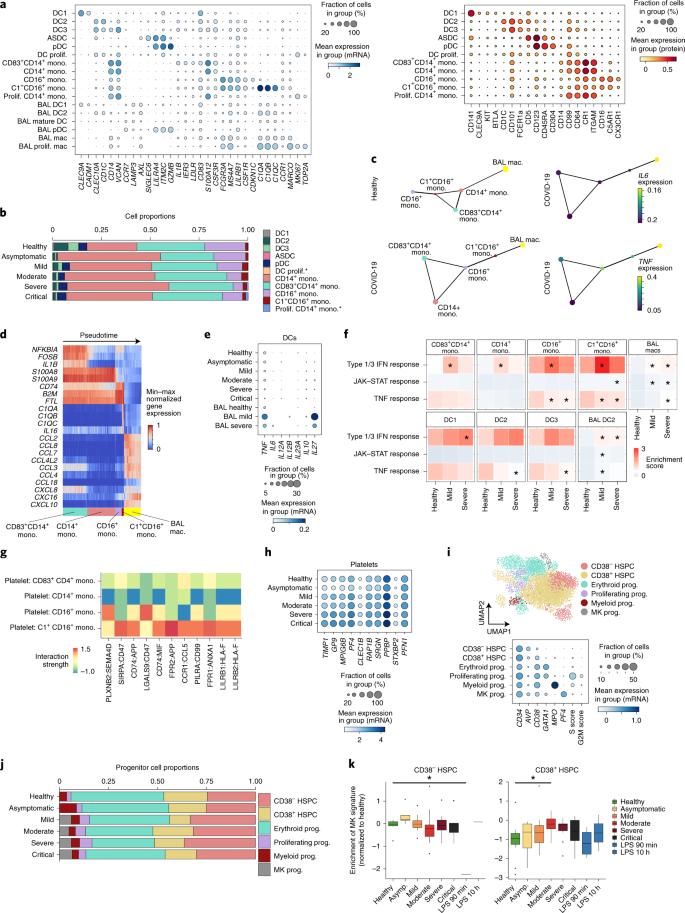 View more: BIOGRAPHY
We previously demonstrated egress of blood DCs and monocytes to the alveolar space with rapid acquisition of a lung molecular profile following human inhalational LPS challenge21. To investigate the relationship between circulating and lung alveolar MPs in COVID-19, we compared the transcriptome profile of blood DCs and monocytes with their bronchoalveolar lavage (BAL) counterparts using recently published data (GSE145926)22 (Extended Data Fig. 3d). Partition-based graph abstraction (PAGA) suggested transcriptional similarity between circulating CD14+ monocytes and BAL macrophages in health, aligning with recent data demonstrating that BAL macrophages can arise from circulating CD14+ monocytes (Fig. 2c)23. In COVID-19, there was greater transcriptional similarity between BAL macrophages and circulating C1QA/B/C+CD16+ monocytes (Fig. 2c), suggesting a differential origin of alveolar macrophages in healthy donors and individuals with COVID-19. Both BAL macrophages and C1QA/B/C+CD16+ monocytes express FCGR3A and C1QA/B/C and type I interferon response genes (Fig. 2a). Myeloid hyperinflammation causing lung and peripheral tissue damage via secretion of inflammatory cytokines such as IL-6 and tumor necrosis factor (TNF) in COVID-19 has been reported and in our analysis were primarily expressed by tissue rather than blood MPs (Fig. 2c). Genes differentially expressed by blood monocytes identified S100A8, previously reported in COVID-19 as contributing to the cytokine storm in severe infection24. BAL macrophages expressed leukocyte-recruiting chemokines including CCL2, CCL4, CCL7 and CCL8 (Fig. 2d).
Tissue DCs respond to local inflammation and pathogen challenge by migrating to the draining lymph node to activate naïve T cells. BAL macrophages contain a population of mature, migratory DCs that express CCR7 and LAMP3 but downregulate DC-specific markers, such as CD1C and CLEC9A (Extended Data Fig. 3c). These migratory DCs express IL10 in health, but TNF and the common IL-12 and IL-23 subunit IL12B in COVID-19, suggesting altered capacity for T cell polarization (Fig. 2e). In peripheral blood, C1QA/B/C+CD16+ monocytes expressed the highest amount of type 1 IFN response genes compared to all myeloid cells (Fig. 2f and Supplementary Tables 6 and 7). We detected minimal TNF-mediated or IL-6-mediated JAK-STAT signaling activation in circulating monocytes and DCs, but this was upregulated by COVID-19 BAL MPs (Fig. 2f, Supplementary Tables 6 and 7).
Coagulation abnormalities and monocyte-platelet aggregates have been previously reported in COVID-19 (refs. 25,26), leading us to investigate predicted receptor-ligand interactions between monocytes and platelets using the CellPhoneDB repository. The expression levels of SIRPA:CD47, FPR1:ANXA1, FPR2:APP between monocytes:platelets were highest in the C1QA/B/C+CD16+ monocytes (Fig. 2g). Using protein data, we identified ICAM1 interactions on platelets with CD11a/b/c/CD18 primarily on C1QA/B/C+CD16+ monocytes and CD16+ monocytes (Extended Data Fig. 3d), accompanied by increased expression of surface proteins indicative of platelet activation (Fig. 2h).
Our large dataset of 781,123 PBMCs allowed us to interrogate 3,297 CD34+ HSPCs. Leiden clustering and uniform manifold and projection (UMAP) visualization showed a cloud-like representation, consistent with a stem/progenitor cell landscape previously described for bone marrow HSPCs27 (Fig. 2i and Extended Data Fig. 3e). Absence of CD38 mRNA and protein expression marks the most immature cells within the CD34+ compartment, while expression of markers such as GATA1, MPO and PF4 characterizes distinct erythroid, myeloid and megakaryocytic progenitor populations, respectively (Fig. 2i). Accordingly, we were able to annotate six transcriptional clusters as CD34+CD38− HSPCs, CD34+CD38+ early progenitor HSPCs and CD34+CD38+ erythroid, megakaryocytic and myeloid progenitors, as well as a small population distinguished by the expression of cell cycle (S phase) genes (Fig. 2i). Megakaryocyte progenitors were absent in healthy and asymptomatic individuals but made up ~5% of CD34+ cells in all symptomatic individuals (Fig. 2j). As peripheral blood is not a site for hematopoiesis28, this finding likely reflects COVID-19-mediated perturbation of normal homeostatic functioning of the bone marrow HSPC compartment.
In light of our earlier observations of platelet activation and enhanced C1QA/B/C+CD16+ monocyte-platelet interactions (Fig. 2g,h), the appearance of CD34+ megakaryocyte progenitors was of particular interest, as it suggested a rebalancing of the stem/progenitor cell compartment. To further explore this hypothesis, we generated differential gene expression signatures between the megakaryocyte, myeloid and erythroid progenitor clusters to interrogate potential early activation or priming in the most immature HSPC clusters (Extended Data Fig. 3f). We observed enrichment of the megakaryocyte progenitor signature in the CD38+ HSPC populations in moderate COVID-19 compared to the healthy condition (Fig. 2k and Supplementary Table 8), but no enrichment of erythroid or myeloid signatures in either CD38− or CD38+ HSPCs (Extended Data Fig. 3g and Supplementary Table 8). Our earlier observation of increased platelet activation within the context of normal platelet counts (Fig. 2h and Extended Data Fig. 2b) is thus consistent with a model whereby a rebalancing of the HSPC compartment toward megakaryopoiesis may be compensating for peripheral platelet consumption in COVID-19.
T lymphocytes and T cell receptor changes
Fine-resolution clustering of mRNA profiles revealed 11 initial clusters of CD4+ T cells, CD8+ T cells and innate-like T cells including γδ T cells, NK T cells and mucosal-associated invariant T (MAIT) cells (Fig. 3a and Extended Data Fig. 4). Annotations were refined further using RNA expression of effector cytokines and surface protein expression (Fig. 3a-c).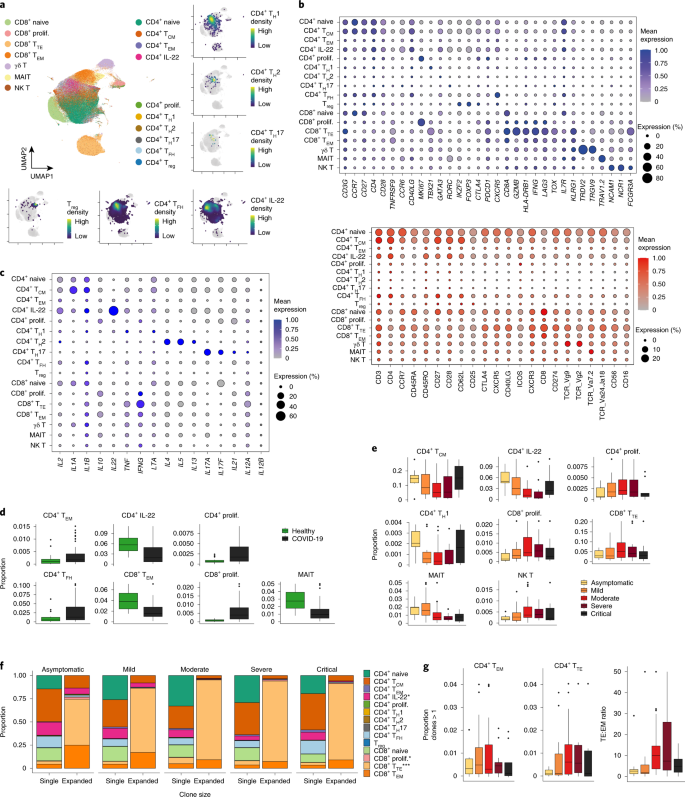 Cellular composition of the T cell compartment varied between healthy and infected groups (Fig. 3d). Based on their relative proportions and differential abundance testing (FDR 10%), we found activated CD4+ T cells expressing IL22, circulating follicular helper T (TFH) cells, type 1 helper T (TH1) cells, CD8+ effector memory T (TEM) cells and MAIT cells relatively enriched in individuals with asymptomatic and mild infection, with NKT, proliferating CD8+ and CD4+, and CD8+ terminal effector T (TTE) cells enriched in individuals with more severe infection (Fig. 3e and Extended Data Fig. 5a,b). Treating disease severity as an ordinal variable (Methods), multiple cell populations displayed nonlinear differences across disease severity (proliferating CD4+ and CD8+ T cells, CD8+ TTE, CD4+ TH1, CD4+ TH17, CD4+ central memory T (TCM) and IL-22+CD4+ T cells), illustrating the complex compositional changes to peripheral T cells that occur with COVID-19 (Fig. 3e and Extended Data Fig. 5b). IL-22-expressing CD4+ T cells seen in asymptomatic and mild disease could be associated with tissue-protective responses that may restrict immunopathology (Fig. 3e) as previously shown for IL-22 in influenza A virus infection29 and lower viral load in COVID-19 patients' lungs30. Proliferating CD4+ and CD8+ T cells coexpressed exhaustion marker genes LAG3 and TOX (Extended Data Fig. 5c), in keeping with previous studies of patients with severe COVID-19 (ref. 5). In contrast to disease severity, CD4+ TH1, CD4+ TH2, CD4+IL-22+ and CD4+ TCM cells were enriched among individuals with longer symptom duration, while effector populations with a cytotoxic phenotype (CD8+ TTE, CD8+ TEM, MAIT and NK T cells) were enriched in individuals with shorter symptom duration (Extended Data Fig. 5d).
Differential gene expression analysis across disease severity (FDR 1%) and gene-set enrichment analysis (GSEA) identified pathways associated with inflammation and T cell activation across multiple subsets, including IL-2-STAT5 signaling, mTORC1 signaling, inflammatory response, IFNγ response, and IL-6-JAK-STAT3 signaling (Extended Data Fig. 5e). The increased activation and cytotoxic phenotype in T cells from individuals with COVID-19 was functionally validated by flow cytometry analysis of PBMCs stimulated ex vivo with SARS-CoV-2 peptide showing upregulation of CD137 and CD107α (Extended Data Fig. 5f).
View more: Elon musk 7 rules to increase productivity
T cell receptor (TCR) clonality analysis showed that effector CD8+ T cells were the most clonally expanded (odds ratio (OR) (95% confidence interval (CI)) 1.81 (1.58-2.10)), P = 2.49 × 10−15) and their relative proportion increased with disease severity (Fig. 3f,g and Extended Data Fig. 5g,h and Supplementary Tables 6 and 7). Conversely, the relative proportion of clonally expanded effector memory CD8+ TEM cells decreased in individuals with more severe disease (OR (95% CI) 0.87 (0.72-1.04), P = 0.26; Fig. 3f,g and Supplementary Tables 9 and 10). These clonal alterations were primarily driven by severity rather than differences in symptom duration for more severely ill patients, as CD8+ TEM clones expanded in individuals who had longer symptom duration, in line with a more developed infection trajectory in these individuals (per day, OR (95% CI) 1.02 (1.01-1.03), P = 2.66 × 10−10). The ratio of effector CD8+ T cells to CD8+ TEM cells (TE:EM ratio) correlated with disease severity (linear model β 2.97, P = 2.92 × 10−18; Fig. 3g and Supplementary Tables 9 and 10), suggesting that CD8+ T cell differentiation outcome may contribute to both antiviral protection and immunopathology, as previously reported in animal models31, although bystander T cell activation cannot be excluded.
B lymphocytes and B cell receptor changes
Re-clustering of B cells and plasma cells identified nine clusters that were annotated according to canonical marker expression (Fig. 4a,b), and previously published transcriptional signatures (Extended Data Fig. 6a). This included immature, naïve, switched and non-switched memory B cells, and a cluster of cells that enriched for markers previously described in exhausted memory B cells32,33 (Fig. 4a,b and Extended Data Fig. 6a). We also found a large population of plasmablasts with negative expression of CD19 and CD20, with high expression of the proliferation marker MKI67, consistent with previous reports on severe SARS-CoV-2 infection15,24, as well as IgM+, IgG+ and IgA+ plasma cells (Fig. 4a,b). In individuals with symptomatic COVID-19, there was a significant expansion of plasmablasts and plasma cells (Fig. 4c and Extended Data Fig. 6b). The magnitude of this expansion increased from mild to moderate disease but was attenuated in severe to critical disease. This observation persisted even after accounting for days from symptom onset (Extended Data Fig. 6b). IgA+ cells were decreased in individuals with symptomatic COVID-19 due to a significant decrease of the IgA2 subclass (Fig. 4d and Extended Data Fig. 6b,c), suggestive of the maintenance of an effective mucosal humoral response in asymptomatic individuals. In parallel, we observed the greatest expansion of circulating follicular helper T (cTFH) cells in asymptomatic individuals and a strong positive correlation between cTFH cells and plasma cells in individuals with asymptomatic/mild disease that was lost with increasing disease severity (Figs. 3e and 4e and Extended Data Fig. 5a,b). Together, this suggests the presence of coordinated T cell and B cell responses in asymptomatic and mild disease, generating effective antiviral humoral immunity that becomes uncoupled in severe and critical disease. This is consistent with previous findings relating to the requirement of TFH cells for optimal antibody responses and high-quality neutralizing antibodies in viral infection34.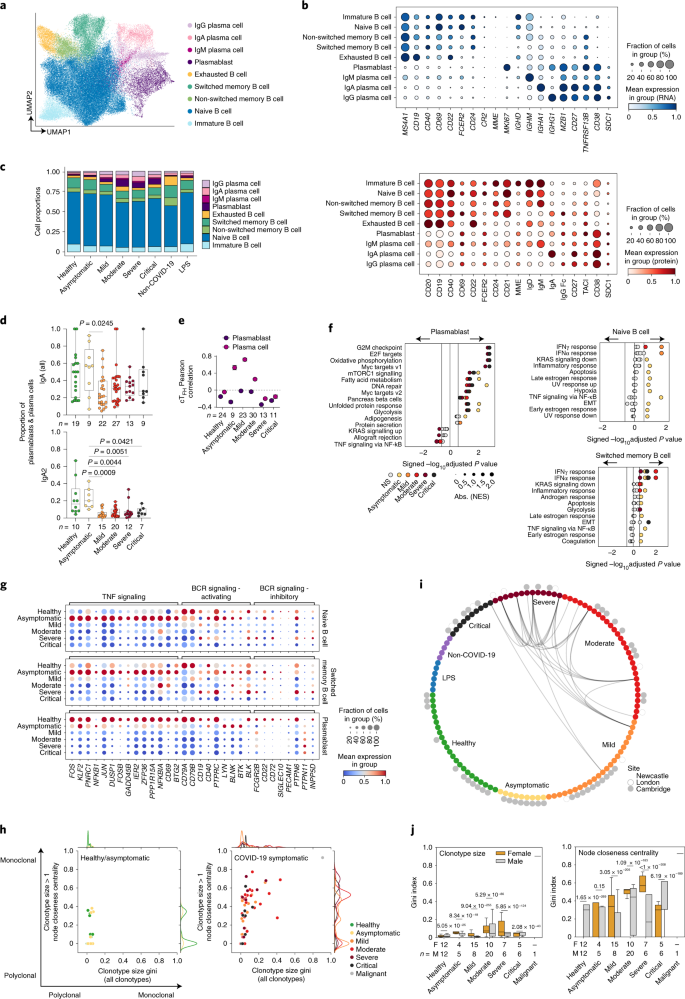 GSEA analysis identified interferon alpha response and interferon gamma response pathway genes enriched in all B cell subsets in individuals with COVID-19, and this was more marked in those with asymptomatic or mild disease, and attenuated in severe and critical disease (Fig. 4f and Extended Data Fig. 6d). The magnitude of type 1 interferon transcriptional response in B cells mirrored serum IFNα levels, which were highest in individuals with mild disease (Extended Data Fig. 2j), suggesting that the low expression of IFN response genes in B cells in severe or critical disease does not reflect an inability of B cells to respond to IFNα, but rather attenuation of IFNα. This may be because the initial antiviral response has waned in patients with severe or critical disease or because these individuals fail to sustain adequate IFNα production by myeloid cells and pDCs following symptom onset as previously reported7. Longitudinal sampling would be required to distinguish these two possibilities.
In asymptomatic individuals, TNF signaling via nuclear factor kappa B (NF-κB) pathway genes was enriched in immature, naïve and switched memory B cells, but decreased in immature B cells and plasma cells in critical and severe disease (Fig. 4f and Extended Data Fig. 6d). Assessment of the leading-edge genes in this pathway demonstrated their markedly higher expression in all B cell and plasmablast/cell subsets in asymptomatic individuals with COVID-19 compared with those with symptomatic disease (Fig. 4g and Extended Data Fig. 6e). TNF was barely detectable in COVID-19 serum samples and highest in individuals with moderate disease (Extended Data Fig. 2j), suggesting that another cytokine, for example IL-6, or stimulus may be responsible for NF-κB activation in asymptomatic individuals with COVID-19.
Hypoxia pathway genes were enriched in immature and naïve B cells only in asymptomatic individuals (Fig. 4f and Extended Data Fig. 6d). Since these individuals are unlikely to be hypoxic (given their lack of symptoms), we postulated that this signature may reflect another hypoxia inducible factor-activating stimulus, which includes B cell receptor (BCR) cross-linking35. We assessed the expression of genes associated with BCR activation, such as CD79A and CD79B, and downstream kinases such as BTK in B cell subsets. Overall, BCR activation-associated genes were most highly expressed in B cells in healthy controls, followed by asymptomatic individuals with COVID-19, with lower expression observed in all symptomatic COVID-19 groups (Fig. 4g and Extended Data Fig. 6e). BCR activation threshold is also modulated by immune tyrosine inhibitory motif-containing receptors that recruit phosphatases, increasing the activation threshold of B cells36. BCR inhibitory gene expression was limited, but CD22 was detectable across B cell subsets in asymptomatic COVID-19, while FCGR2B, CD72 and PTPN6 expression was evident in B cells in severe COVID-19 (Fig. 4g and Extended Data Fig. 6e). Together, this analysis suggests that B cells in asymptomatic individuals with COVID-19 and those with mild disease have a more pronounced response to interferons, increased NF-κB activation and a higher expression of genes associated with BCR activation signaling, suggesting a potential for greater BCR activation. Longitudinal analysis of patient samples will be required to establish if this is due to avid responses early in disease that prevent progression to a more severe phenotype or the immune response in early disease.
Following activation, B cells differentiate into antibody-producing plasma cells, accompanied by a progressive increase in oxidative metabolism37,38. We observed differences in metabolic gene pathway expression in plasmablasts and plasma cells between disease severity categories, with enrichment of oxidative phosphorylation pathway genes in all disease groups, and a relative increase in glycolysis pathway genes in asymptomatic patient plasmablasts when compared to symptomatic disease groups (Fig. 4f and Extended Data Fig. 6e).
We next assessed BCR clonality using 'dandelion', a single-cell BCR-sequencing analysis package (Methods), and found substantially more clonal expansion in symptomatic individuals with COVID-19 (Fig. 4h and Extended Data Fig. 7). Expanded clonotypes were found across all major cell types with larger clonotypes present primarily in plasmablast/plasma cell clusters (Extended Data Fig. 8a,b). Within the expanded clonotypes, there was some evidence of class switching within symptomatic COVID-19 groups but not in the asymptomatic/healthy individuals (Extended Data Fig. 8c). Unlike other large-scale single-cell RNA-sequencing (scRNA-seq) studies with BCR profiling15,24, there was no obvious bias of immunoglobulin heavy-chain variable (IGHV) gene usage in general (Extended Data Fig. 9a). Disaggregating the IGHV gene usage data to individual gender groups showed that only IGHV1-46 was significantly increased in women with critical COVID-19 relative to healthy controls (Extended Data Fig. 9a). Some related BCRs were present in different individuals, with more incidence of V and J gene usage and related amino acid sequences of heavy-chain and light-chain CDR3s observed in individuals with severe or critical disease, and in individuals from one center (Newcastle; Fig. 4i), which could arise due to local variants of the virus driving expansion of specific B cell clones. We note that none of these related BCRs were found to be expanded in the individuals, which was expected as only a relatively small number of B cells per individual were sampled. It would have been unlikely to find exactly matching heavy-chain and light-chain sequences across different individuals (even when allowing for somatic hypermutation variation), given the expected low coverage that arises from a small number of single cells (relative to bulk BCR sequencing). Finally, we observed disproportionate distribution in clonotype size, whether considering expanded or all clonotypes, and increased BCR mutations between men and women with COVID-19, with greater levels of both in women compared with men (Fig. 4j and Extended Data Fig. 9b). These differences in clonal expansion of B cells are consistent with a role in previous reports of worse outcomes in COVID-19 in men39,40.
We summarize the immunological cellular and molecular profiles observed in our study distinguishing features between asymptomatic/mild disease from severe/critical disease (Fig. 5). Future longitudinal studies may enable us to distinguish if the distinct responses in asymptomatic and milder disease prevent progression to severe phenotypes.