Loss of sense of smell (anosmia) or taste (ageusia) are distinctive symptoms of COVID-19 and are among the earliest and most often reported indicators of the acute phase of SARS-CoV-2 infection. It is notable from other viral symptoms in its sudden onset and the absence of mucosal blockage1. While a large fraction of COVID-19 patients report loss of smell or taste, the underlying mechanism is unclear2. In this study, we conducted a genome-wide association study (GWAS) of COVID-19-related loss of smell or taste, having collected self-reported data from over 1 million 23andMe research participants as described previously3. By asking study participants to report the symptoms they encountered during their COVID-19 experience, we identified SARS-CoV-2 test-positive individuals who reported a loss of smell or taste and contrasted them with test-positive individuals who did not report a loss of smell or taste.
Of the individuals who self-reported having received a SARS-CoV-2 positive test, 68% reported loss of smell or taste as a symptom (47,298 out of a total of 69,841 individuals). Female respondents were more likely than male respondents to report this symptom (72% versus 61%; chi-squared test, P = 5.7 × 10−178) and those with this symptom were typically younger than those without this symptom (mean age of 41 years for those with loss of smell or taste versus 45 years for those without; P = 2.34 × 10−199, Welch's t-test). Among genetically determined ancestral groups, rates of loss of smell or taste ranged between 63% and 70% (Table 1). As expected, compared to other symptoms surveyed, loss of smell or taste was much more common among those with a SARS-CoV-2 positive test compared to those who self-reported other cold or flu-like symptoms but who tested negative for SARS-CoV-2 (Extended Data Fig. 1). In a logistic regression model predicting loss of smell or taste as a function of age, sex and genetic ancestry, individuals of East Asian or African American ancestry were significantly less likely to report loss of smell or taste (odds ratio (OR) = 0.8 and 0.88, respectively) relative to individuals of European ancestry (Supplementary Table 1).
See more: Covid 19 smell and taste
View more: Arizona COVID-19 updates: State adds 3,552 new cases, 17 deaths
For unrelated individuals with complete data, we conducted GWAS within each ancestry group separately (total sample size = 56,373) before performing a multi-ancestry meta-analysis using a fixed effects model. Each input GWAS was adjusted for inflation via genomic control (λ = 1.029, 1.037, 1.024, 1.042 and 1.071 within the European, Latino, African American, East Asian and South Asian ancestry GWAS, respectively), as was the subsequent meta-analysis (λ = 1.001). Within the multi-ancestry meta-analysis, we identified a single associated locus at chr4q13.3 (Fig. 1). No other locus achieved genome-wide significance in the multi-ancestry meta-analysis or in any of the input populations. The index SNP at this locus was rs7688383 (C/T, with T being the risk allele, P = 1.4 × 10−14, OR = 1.11). While most of the support for this genetic association within the multi-ancestry analysis comes from the European population (for which we have the largest sample size), the estimated effect sizes are consistent across populations (Supplementary Table 2). The credible set from the multi-ancestry analysis contained 28 variants covering a 44.6-kilobase (kb) region (chr4:69.57-69.62 megabases (Mb); Supplementary Table 3).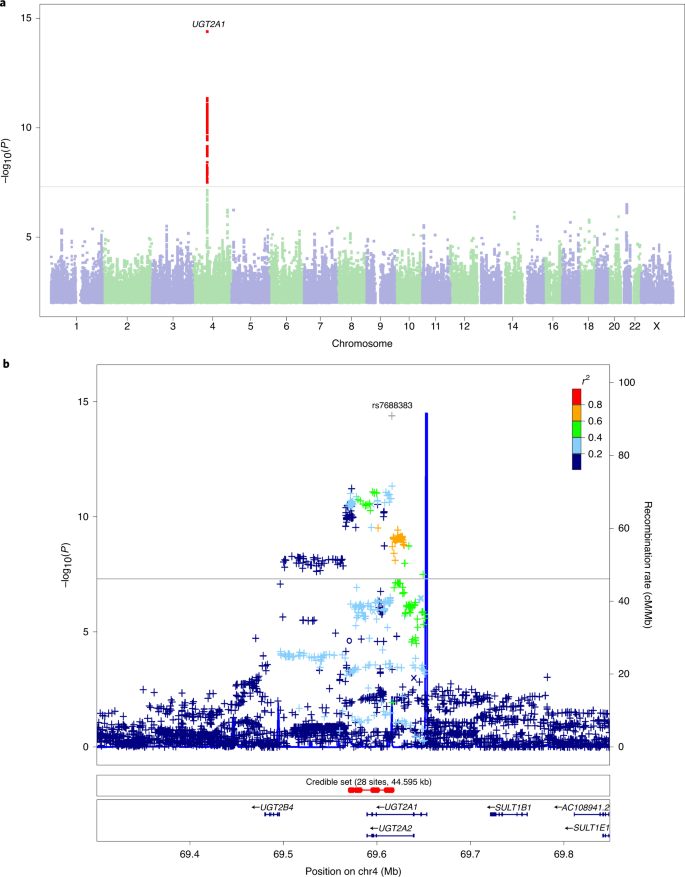 We performed a phenome-wide association study on the index SNP across approximately 1,300 phenotypes defined in the 23andMe database. We identified four additional associated phenotypes with P < 1 × 10−6, of which two are related to the ability to smell, one is related to ice cream taste preference and one is related to tobacco use (Supplementary Table 4). We detected no other associations with COVID-19 symptoms, susceptibility or severity.
View more: Brad Pitts Full A-List Dating History: Gwyneth, Jen, Angelina & More
There are four genes within 150 kb of the association (UGT2A1, UGT2A2, UGT2B4, SULT1B1), with the index variant itself being within an intron of the overlapping UGT2A1 and UGT2A2 genes. While the GWAS index variant appears to be physically proximal to expression quantitative trait loci (eQTLs) for UGT2A1, evidence for colocalization between the GWAS and eQTLs for any of the nearby genes is generally weak (Supplementary Note and Extended Data Figs. 2 and 3). Nonetheless, of the four genes in the vicinity, UGT2A1 and UGT2A2 are not only the most proximal but also the most biologically plausible causal gene candidates. UGT2A1 and UGT2A2 are part of a family of uridine diphosphate glycosyltransferases, enzymes that metabolize lipophilic substrates through conjugation with glucoronic acid. During olfaction, animal studies show that these enzymes, which are expressed in the olfactory epithelium, are involved in the elimination of the odorants that enter the nasal cavity and bind to olfactory receptors. For example, glucuronidation of odorants fails to stimulate the olfactory bulb, which prevents the odor from being detected by the brain, functionally demonstrating the effect of the enzyme produced by these genes on the odorant4. This results in the clearance of the odorant to facilitate the transient experience of olfaction, once the stimuli are no longer present in the environment5. UGT2A2 is a splice variant of UGT2A1, with identical C-terminal residues but different N termini6. Conversely, UGT2B4 and SULT1B1 appear less plausible from a biological perspective, with neither having a clear link to olfactory or gustatory function.
While mechanistic explanations have been proposed7 for COVID-19-related loss of smell, experimental studies suggest that loss of smell is related to damage to the cilia and olfactory epithelium but not infection of the olfactory neurons. For example, in an experiment where hamsters were nasally infected with SARS-CoV-2, the olfactory epithelium and cilia became very damaged, which can completely inhibit the ability to smell, but no infection was observed in the olfactory neurons8. Recent evidence suggests that SARS-CoV-2 enters and accumulates in olfactory support cells, specifically, sustentacular cells, which unlike olfactory neurons abundantly express the viral entry proteins angiotensin-converting enzyme 2 (ACE2) and transmembrane protease serine 2 (TMPRSS2; refs. 9,10). These support cells are metabolically and functionally associated with olfactory neurons and with odorant signal transduction (processing odorants by endocytosing the odorant-binding protein complex, detoxifying, maintaining the cilia of mature olfactory receptor neurons and maintaining epithelial integrity). It has been proposed that olfactory sensation is impaired when these essential functions are disrupted, causing ciliary impairment7. How UGT2A1 and UGT2A2 are involved in this process is unclear but given their localization and essential function in metabolizing and detoxifying such compounds, these genes may play a role in the physiology of infected cells and the resulting functional impairment that contributes to loss of ability to smell. Notably, the variant identified in this study also appears to be associated with general ability to smell, which may suggest that those with heightened smell or taste sensitivity may be more prone to notice a loss of these senses resulting from a SARS-CoV-2 infection.
Our study has several limitations. First, while our study was large in scale, it was biased toward individuals of European ancestry and lacked a replication cohort. Second, we relied on self-reported case and symptom status; replication within a cohort with clinical ascertainment could be beneficial. Third, given that loss of smell or taste were combined in a single survey question, we cannot further disentangle these two symptoms. Loss of smell without loss of taste may be distinct from loss of both or loss of taste without loss of smell. Given this, it is unclear if our findings relate more strongly to one symptom or the other.