Rich, creamy and velvety faux cheese sauce, made using only real food. Totally plant based, vegan and oil free. Decadent, gooey and perfect for mac and cheese, nachos, tacos or queso.
Who ever knew that potatoes would give a vegan, plant-based, oil free cheese sauce such luxuriant richness and creaminess? Not me. For a few months I saw various recipes for creamy sauces using potatoes and scoffed at them. How wrong I was.
Jump to:
? Ingredient notes
? Instructions
11 ways to use this cheese sauce
?‍?‍?‍? Serving suggestions
❓ FAQ
? More recipes you'll love
? Recipe
? Reviews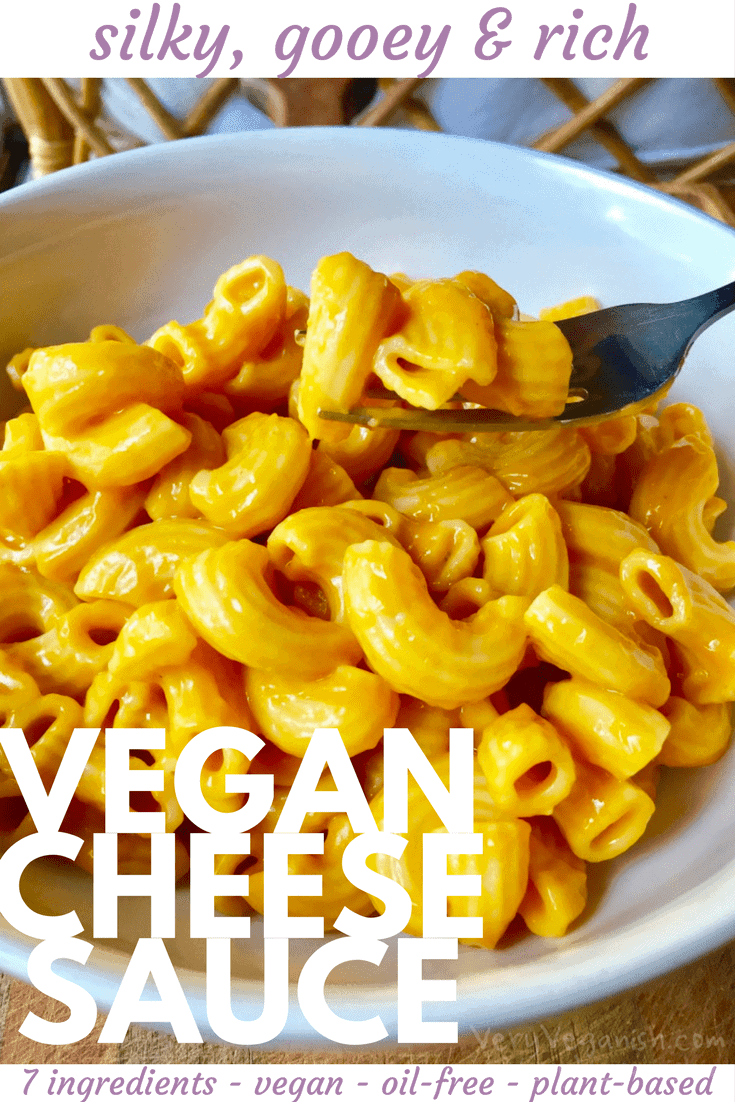 I've made Creamy Cauliflower Alfredo Sauce for a long time, which is a vegan white béchamel sauce alternative.
But, for a plant-based mac and cheese, I needed something different.
Something cheesy, gooey, creamy and, while I love using cashews, they are very rich and calorie-dense.
So, I experimented with a vegan, nut-free, oil-free cheese sauce that would be a good, healthy velveeta substitute or alternative.
Presenting… Fauxveeta! (do you see what we did there?) ?
? Ingredient notes
This sauce is made using:
potatoes
carrots
onion
garlic
plant-based milk (I use almond milk, but to make this completely nut-free, use soy milk or oat milk)
nutritional yeast
turmeric, salt and pepper
Some optional, but highly recommended, flavor boosters are:
smoked paprika
lemon juice
apple cider vinegar
miso paste
The potatoes make it rich, silky and creamy.
The carrots give a hint of sweetness and add to the color.
The onion and garlic are for flavor.
The almond milk adds to the creaminess and is needed to thin the mixture in the blender.
The nutritional yeast gives it the cheesy, umami flavor.
And, the turmeric contributes health benefits and aids in the bright orange color.
Believe me, okay? Just try it. It is not cheese, but it sure does work as a great alternative.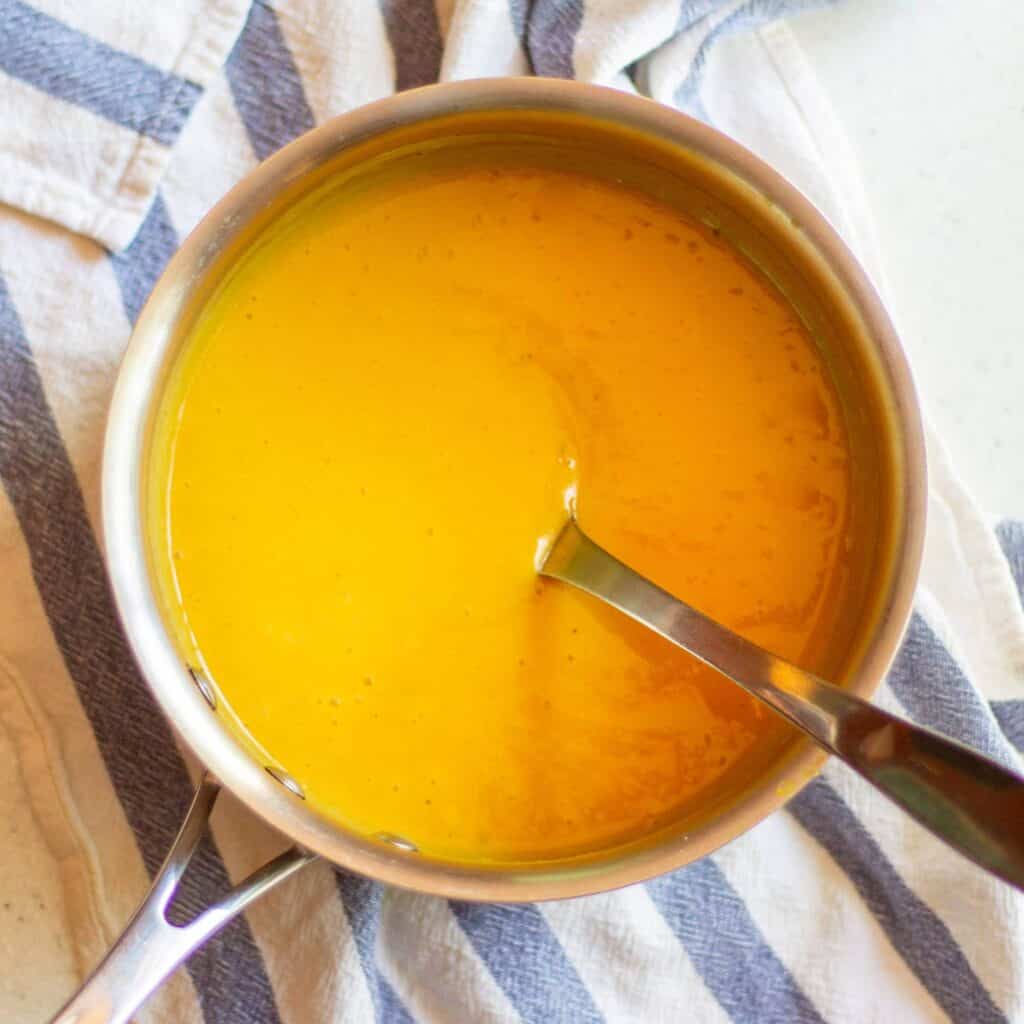 ? Instructions
Step 1: Boil the veggies in a stockpot until tender.
Step 2: Blend it up with spices and almond milk.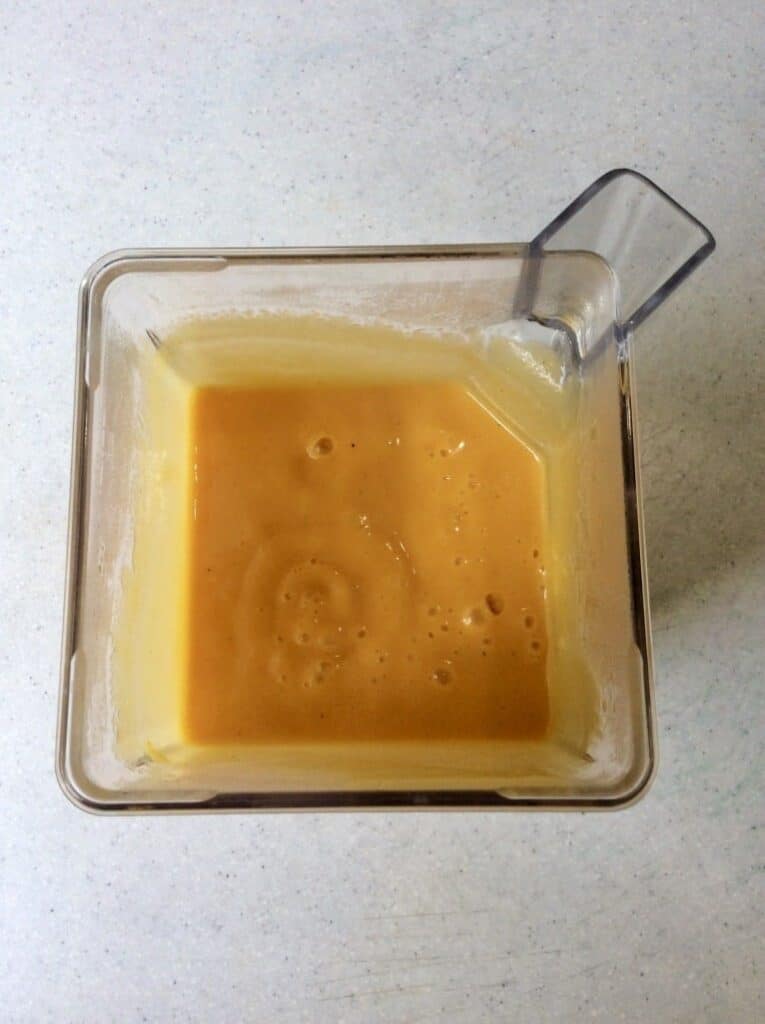 Step 3: Use as you would use any cheese sauce!
11 ways to use this cheese sauce
Pour over macaroni for vegan mac and cheese
Mix with spicy Rotel or salsa for an easy vegan chile con queso nacho cheese dip
Loaded Vegan Nachos, hello!
Cheese fries
Drizzle over tacos
Drizzle over tostadas
Broccoli cheese baked potato
Pour over steamed veggies and rice
Pour over steamed broccoli for vegan cheesy broccoli side dish
Broccoli cheese soup
Use chilled sauce in place of fat in Southern biscuit recipes. Your biscuits will be orange, but will be low-fat!
?‍?‍?‍? Serving suggestions
This makes enough sauce (about 4+ cups) to completely coat one pound of macaroni pasta, for mac and cheese.
This should serve four people, with a side salad or other type of vegetable side.
Steamed broccoli goes really well with this. Also, green peas.
❓ FAQ
Do I have to peel my potatoes?
For a smooth sauce, peel your potatoes.
If you don't mind a speckled sauce and are using Yukon gold potatoes, which have a thin skin, you can leave the skins on (but be sure to thoroughly scrub them when washing).
If you're using potatoes with a thicker skin (like russets), they should definitely be peeled before cooking.
How long will this sauce last?
This vegan cheese sauce will last up to 5 days in a sealed container in the refrigerator. It will last up to 3 months in the freezer.
Will this freeze well?
Yes! I've tested this and it keeps in the freezer for up to 3 months.
To reheat, let it thaw in the refrigerator overnight. Then, heat it up either in the microwave or on the stove.

Microwave: Remove lid and microwave for 1 minute, then stir. Repeat until hot and smooth again, as needed.
Stove: Add thawed sauce to a small-medium saucepan and simmer over medium-low heat, stirring frequently. It will look separated at first, but keep heating and stirring it until the smooth, silky consistency has returned.
Is velveeta vegan?
No. Velveeta cheese contains animal products, like milk, whey, milk protein concentrate, milk fat, along with a host of other preservatives and other things.
The ingredients for Velveeta are: Milk, Water, Whey, Milk Protein Concentrate, Milkfat, Whey Protein Concentrate, Sodium Phosphate, Contains 2% or less of: Salt, Calcium Phosphate, Lactic Acid, Sorbic Acid, Sodium Citrate, Sodium Alginate, Enzymes, Apocarotenal, Annatto, Cheese Culture.
This recipe for Fauxveeta Vegan Cheese Sauce is a real whole food, plant-based alternative to Velveeta. Hope you enjoy it!
? More recipes you'll love
Love this recipe? Please rate it 5 stars ⭐️⭐️⭐️⭐️⭐️ below in the recipe card. And, if you make it, please tag me on Instagram or Facebook in your posted photos! I would love to see your creations. ?
? Recipe
Update 9/8/17: I have updated this recipe with more specific measurements. Also, the nutritional yeast has been marked as optional. It imparts a cheesy flavor, but is not necessary to make this sauce. We often make it without and it is still delicious! I hope this helps!