All-Ireland senior football championship final
TYRONE 2-14 MAYO 0-15
By Paul Keane at Croke Park
The greatest cliche of them all, that goals win games, neatly summed up the story of the All-Ireland football final as Tyrone reigned supreme at Croke Park, collecting their first title since 2008.
Second-half goals from substitute Cathal McShane and Man of the Match Darren McCurry, who struck 1-4 in total, ultimately proved decisive as the Ulster champions surged to their fourth ever title.
The game swung in a frantic third quarter when Mayo were awarded a penalty and failed to convert it, Ryan O'Donoghue hitting the post, and Tyrone punished them with the McShane goal five minutes later.
From a position of potentially falling behind, Tyrone now led by 1-10 to 0-9 and McCurry's 59th minute goal when he palmed in from close range after terrific work in the buildup by Conn Kilpatrick and Conor McKenna went a long way to sealing the deal.
Mayo typically threw everything they had at it but came up agonisingly short again, their 11th final defeat since their last All-Ireland success in 1951.
To add to the sense of Groundhog Day for Mayo, the 2-14 to 0-15 scoreline was the exact same as last December's when they lost to Dublin in the 2020 decider.
Mayo finished with 14 players following Matthew Ruane's red card dismissal in the 71st minute following an incident that left Kilpatrick, who was booked, with a ripped shirt.
It was another of those days for Mayo who will take consolation overall from the continued development of their young stars, their Connacht title success and their memorable semi-final win over Dublin.
Tyrone's win will go down in the annals of Red Hands history with joint managers Feargal Logan and Brian Dooher achieving success in their first season in charge. Back in 2008, when the county won its last All-Ireland, Dooher was team captain.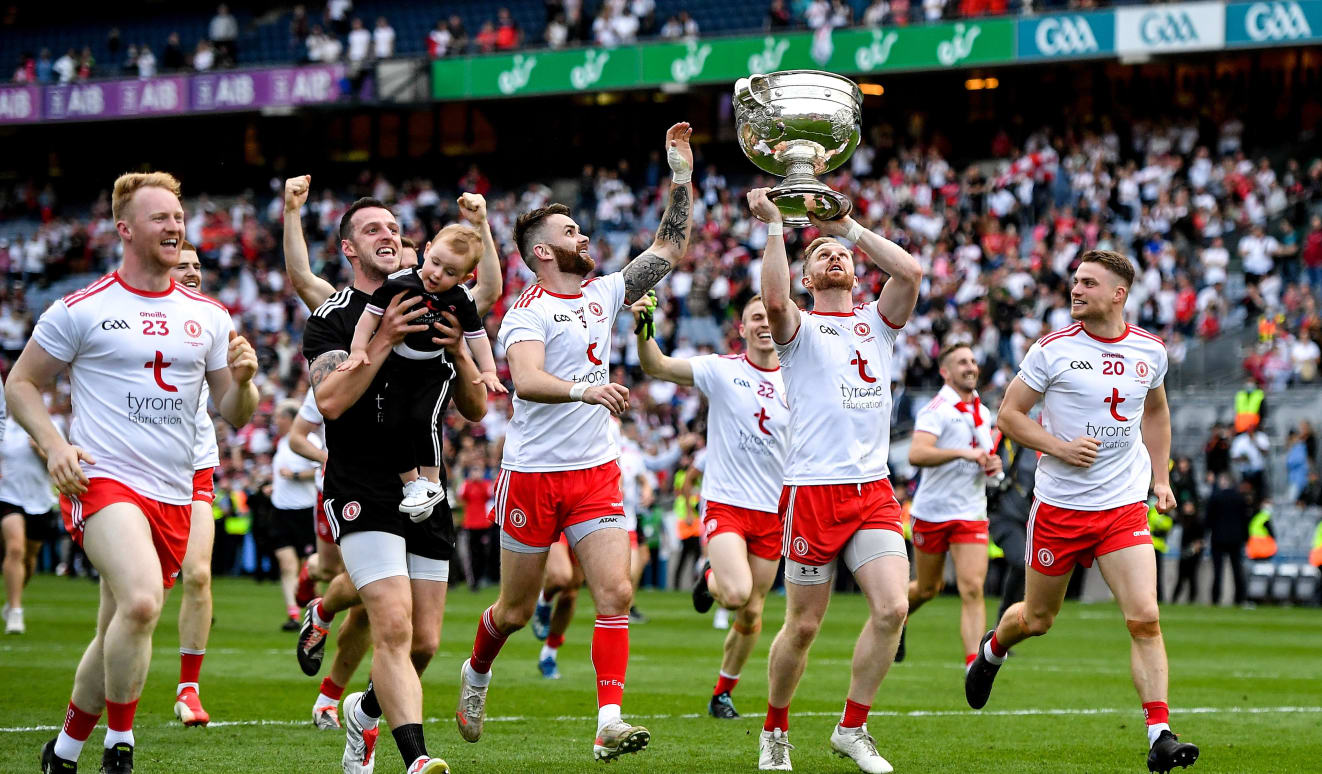 They had heroes throughout the field with Kilpatrick excellent and goalkeeper Niall Morgan, Conor Meyler, McCurry and sub McShane all making crucial contributions.
Mayo, led by O'Shea, were first to break away from the pre-match parade and looked the more amped up, pointing after just 14 seconds through Tommy Conroy.
Tyrone 'keeper Morgan failed to get the resulting kick-out beyond his 13-metre line and, shortly after, corner-back Michael McKernan was forced over his own endline and conceded a 45.
All of that occurred in the opening two minutes and Mayo doubled their advantage when Kevin McLoughlin was fouled by Frank Burns, allowing O'Donoghue to convert.
The early match-ups were intriguing; Tyrone full-back Ronan McNamee on Mayo captain Aidan O'Shea, who lined out at full-forward, Padraig Hampsey on Conroy and McKernan on O'Donoghue.
At the other end, Lee Keegan picked up Conor McKenna and Stephen Coen tracked Mattie Donnelly while Padraig O'Hora performed man-marking duties on McCurry.
Oisin Mullin started for Mayo in defence after recovering from a quad injury and wore number 19.
Any early suggestion that Mayo might pull significantly clear was dashed by three Tyrone points in a row from Morgan, Hampsey and McCurry.
Tyrone grew into the game and while the sides were level four times up to 0-5 apiece, it was the Ulster men that were the happier that their carefully crafted game-plan was working.
They soaked up the best Mayo had and were happy to hit the Connacht champions on the break time and again.
They had the quality to kick a series of points from medium and long-range, Kieran McGeary and Niall Sludden both displaying their quality in the second quarter.
Goalkeeper Morgan was typically central and engineered one score with a brilliant interception and long, early delivery that broke off McKenna and fell to McCurry.
A goal was on and while McCurry couldn't beat Rob Hennelly in the Mayo goals, he earned a 45 that Morgan converted.
O'Shea's individual duel with McNamee at the other end of the field was thrilling. The Mayo skipper was a constant outlet and got plenty of possession but his wait for a first point in what is now eight All-Ireland finals goes on. He had two first-half chances but kicked the first wide and then had a 26th minute shot at goal blocked by McNamee.
Conor Loftus also had a Mayo goal opportunity cleared off the line by Niall Sludden and the westerners' appeals for a stoppage time penalty following a foul on O'Hora, following a clever pass by O'Shea, were denied. Referee Joe McQuillan adjudged that the foul took place outside the penalty area which did at least allow O'Donoghue to tap over an easy free for his fifth point of the half.
The strike reduced Mayo's arrears to two points as Tyrone headed into the interval with a 0-10 to 0-8 advantage.
Mayo have made a habit in this season's Championship of bursting into life in the third quarter and did so again.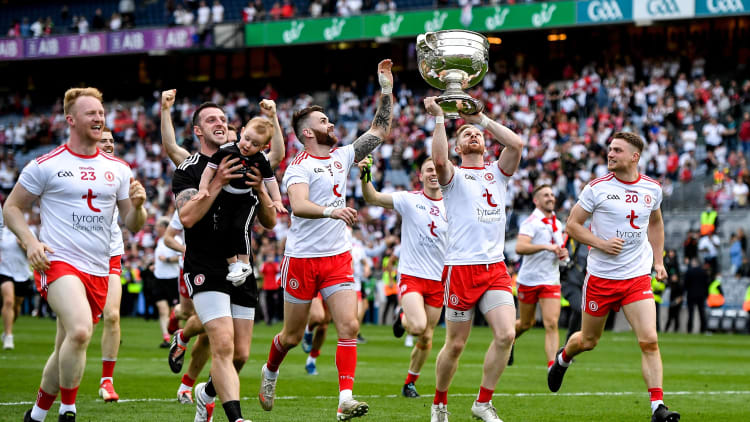 Firstly, Conroy outpaced Hampsey to create a goal chance that he pulled wide at the Davin End. Then, Mayo were awarded a 42nd minute penalty after Frank Burns lifted the ball off the ground in a goalmouth scramble but O'Donoghue, to his horror, struck the kick off the post and wide.
Tyrone sprung 2019 All-Star McShane from the bench at half-time and, five minutes after Mayo's penalty miss, he flicked in the Tyrone goal.
Fit again after a long-term ankle problem, McShane beat Mullin to Meyler's high ball in from the left wing to redirect the ball to the net.
In scoring terms, Tyrone went from being so close to trailing in the game to leading 1-10 to 0-9.
With 20 minutes to go, a terrible thought dawned on Mayo supporters – another final may be about to get away from them.
It turned out to be the case with Tyrone getting a strong kick from their bench in the shape of not just McShane but impact sub Darragh Canavan who pinched an important score.
Peter Harte converted an advanced mark and McCurry, with a fisted score, and free-taker Morgan were all on the mark late on.
Mayo needed goals but for all the chances they converted over the 70 minutes or so, they never arrived. Tyrone, in contrast, took the goal chances that came their way and won the All-Ireland for that reason.
Tyrone scorers: Darren McCurry 1-4 (0-2f), Cathal McShane 1-0, Niall Morgan 0-3 (0-2f, 0-1 45), Niall Sludden 0-2, Padraig Hampsey 0-1, Kieran McGeary 0-1, Mattie Donnelly 0-1, Peter Harte 0-1 (0-1m), Darragh Canavan 0-1.
Mayo scorers: Ryan O'Donoghue 0-8 (0-7f), Tommy Conroy 0-2, Patrick Durcan 0-1, Rob Hennelly 0-1 (0-1f), Stephen Coen 0-1, Lee Keegan 0-1, Kevin McLoughlin 0-1.
TYRONE: Niall Morgan; Michael McKernan, Ronan McNamee, Padraig Hampsey; Frank Burns, Kieran McGeary, Peter Harte; Brian Kennedy, Conn Kilpatrick; Conor Meyler, Michael O'Neill, Niall Sludden; Darren McCurry, Conor McKenna, Mattie Donnelly. Subs: Cathal McShane for Donnelly 44, Darragh Canavan for O'Neill 53, Ben McDonnell for Kennedy 57, Paul Donaghy for McKenna 66, Tiernan McCann for Kilpatrick 73.
MAYO: Robert Hennelly; Stephen Coen, Lee Keegan, Padraig O'Hora; Patrick Durcan, Oisin Mullin, Michael Plunkett; Mattie Ruane, Conor Loftus; Diarmuid O'Connor, Bryan Walsh, Kevin McLoughlin; Tommy Conroy, Aidan O'Shea, Ryan O'Donoghue. Subs: Enda Hession for Plunkett h/t, Jordan Flynn for O'Hora 52, Darren Coen for Walsh 58, Aidan Orme for Loftus 66, James Carr for McLoughlin 74.
Referee: Joe McQuillan (Cavan).