Don't look now, but the NBA preseason is already underway. That means the regular season is just a couple weeks away with opening night set for Oct. 19, when the Milwaukee Bucks host the Brooklyn Nets before the Golden State Warriors and Los Angeles Lakers do battle in the nightcap.
While we look into every team ahead of the 2021-22 season — catch up on all of our team previews here — naturally, we need to forecast the players, too. So here it is: Our CBS Sports Top 100 player rankings for the 2021-22 season. Taking the cumulative results of our seven writers' individual rankings, this is a look ahead to how these players are expected to perform in the upcoming season. It is not based on last year's production.
This means rookies are eligible, and indeed No. 1 overall pick Cade Cunningham made our top 100. In fact, he cracked our top 74.
74

The only rookie on this list, Cunningham is here because everything about him screams NBA-ready. He projects not only as the Pistons' best playmaker, but the rare 20-year-old who can immediately help his team on both ends, on and off the ball. Of the numerous potential franchise-changers in the 2020 draft, he is the surest thing — the question is how long it will take Detroit to give him the reins and put the proper pieces around him.
With that in mind, let's get to the list top 10.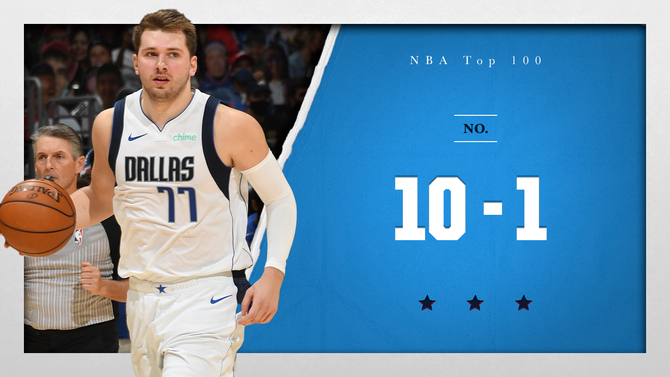 10

The question that will define the Lakers' season has nothing to with Russell Westbrook's fit or LeBron James' age. No, if the Lakers are going to reclaim the championship, they are going to need Anthony Davis to find his shot again. In the 2020 postseason, he channeled his inner Kevin Durant by shooting 38.3 percent on 3s, 49.6 percent on mid-range jumpers and 57.1 percent on all field goals. Last season, those numbers dipped to 26 percent, 34.8 percent and 40.3 percent, respectively. The truth lies somewhere in between, but despite his reputation, Davis has never been an especially effective long-range shooter … except for those few glorious months in the Orlando bubble. With Westbrook limiting the Lakers' spacing, he'll have to recapture that form if the Lakers are going to win their second title in three years. — Sam Quinn
9

Leonard's time with the Clippers has thus far not gone to plan. First there was the playoff collapse in the bubble, and then a torn ACL in the second round last season. Now, he's likely to miss, at the very least, a significant portion of the upcoming season. But while there are currently questions about his health, there are none about his talent. He's still one of the best defenders in the league, and has developed into a precision scorer who can single-handedly carry teams come playoff time. — Jack Maloney 
8

Joel Embiid was arguably the most dominant player in the league last season, and there's no reason not to expect the same from the Sixers big man during the upcoming campaign. He can do it all on the offensive end, and he's also a top-tier defender at the center spot. Embiid was the runner-up for the MVP award last season, and as long as he can stay healthy and out on the court for Philly, he'll be right back in that conversation again. — Michael Kaskey-Blomain
7

Harden was bothered by a hamstring injury during the latter part of last season, but when he's healthy, as he's projected to be during the '21-22 season, he remains arguably the most dangerous offensive player in the league. He's the complete package on that end of the floor. In addition to his scoring, Harden's playmaking has been on full display in Brooklyn, and with a chance to chase his first title, he should be extra motivated. — Michael Kaskey-Blomain
6

If he looks like he's playing a different sport than everybody else, it's because he's literally borrowing techniques from water polo. There have been point-center types before, but Jokic has the same command of Michael Malone's offense that Steve Nash and James Harden had under Mike D'Antoni. That is new, and there is no reason to expect the reigning MVP to be any less dominant this season. He has the post moves, soft touch and Hall of Fame processing speed to counter any type of defense. The only thing keeping him out of top five is his lack of scheme versatility on the other end. — James Herbert
5

At Media Day, Mavericks head coach Jason Kidd said Doncic was a "young Picasso," which is just the latest descriptor to explain the 22-year-old superstar's game. It was difficult to envision how he would follow up his historic sophomore season, but in Year 3 he increased his efficiency from the field (47.9 percent) and 3-point territory (35 percent) to career highs, and almost single-handedly beat the Clippers in the first round of the playoffs. With a new head coach and some new role players at his disposal, we'll be watching to see if Doncic can get Dallas higher in the standings and further in the playoffs this season. — Jasmyn Wimbish
4

If you're waiting on the decline of Curry, get comfortable. Coming off his second scoring title and a third-place finish in the MVP race, Curry, who will turn 34 about a month prior the 2022 playoffs, remains at the height of his powers as arguably the single-most dominant offensive force in the league. Curry's combination of pick-and-roll mastery, one-on-one space creation and dizzying off-ball movement allows him to get pretty much any shot he wants, and those shots continue to go in at an unprecedented rate. — Brad Botkin
3

When Giannis signed his extension to stay with the Bucks last year, he did so with the express goal of winning a championship in Milwaukee. And that's just what he did, leading the Bucks to their first title in 50 years despite suffering a severe hyperextended knee in the Eastern Conference finals. He is an athletic marvel, a dominant two-way force and one of the fiercest competitors in the league, which is why he'll be in the MVP and best player in the world conversations for the foreseeable future. — Jack Maloney
2

Is LeBron slipping? That's a loaded question. He was right in the thick of the MVP race before Solomon Hill dove into his ankle. He also averaged his fewest minutes (33.4) of his career, his fewest assists (7.8) since 2016 and the fewest points (25) since his rookie year. The king remains the NBA's smartest player, but eventually, Father Time is going to knock him off of his throne physically. Russell Westbrook's arrival was geared largely toward staving that moment off for just a little while longer. James will likely play fewer minutes and take fewer shots this season. All that matters is whether or not he can still summon the brilliance that makes him arguably the greatest player ever when it counts most. If the 2020 postseason is any indication, he's still got enough left in the tank to do just that. — Sam Quinn
1

A little over two years removed from his torn Achilles tendon, there are no longer any questions about how the injury will impact Durant's career. After a brilliant showing in the playoffs for the Nets, where he almost single-handedly beat the Bucks, and a dominant summer for Team USA at the Olympics, Durant has taken the throne as the best player in the world. With his unique combination of size and skill, he is an unstoppable scoring force, the likes of which the league will never see again. — Jack Maloney