In one of the greatest sprint races of all-time, Elaine Thompson-Herah stunned with an Olympic record of 10.61 (-0.6m/s) to retain her 100m title at the Tokyo 2020 Games on Saturday (31).
Leading an all-Jamaican podium, the 2016 Olympic 100m and 200m winner blazed away from her rivals to claim the crown ahead of multiple global gold medallist Shelly-Ann Fraser-Pryce and Rio Olympic 400m medallist Shericka Jackson, as the top three all dipped under 10.80.
The equal second-fastest time in women's 100m history, Thompson-Herah's mark improves by 0.01 an Olympic record which had been set by world record-holder Florence Griffith-Joyner in Seoul in 1988. The fast-starting Fraser-Pryce ran 10.74 for her seventh Olympic medal, while Jackson clocked a 10.76 PB for a second Olympic bronze and Ivory Coast's multiple world medallist Marie-Josee Ta Lou finished fourth in 10.91.
European indoor 60m champion Ajla Del Ponte's breakthrough year continued with a fifth-place finish, as she ran 10.97 which came after her Swiss record of 10.91 in the heats. Her teammate Mujinga Kambundji, the world 200m bronze medallist, ran 10.99 in sixth, while the USA's Teahna Daniels was seventh (11.02) and Britain's Daryll Neita eighth (11.12).
It was an incredible return to global stage success for Thompson-Herah, who has had a series of injury struggles since winning her sprint double in Rio five years ago.
Throwing her left arm out in celebration as she crossed the finish line, the 29-year-old then let out a series of screams and sank to the track in delight as the magnitude of her achievement hit her.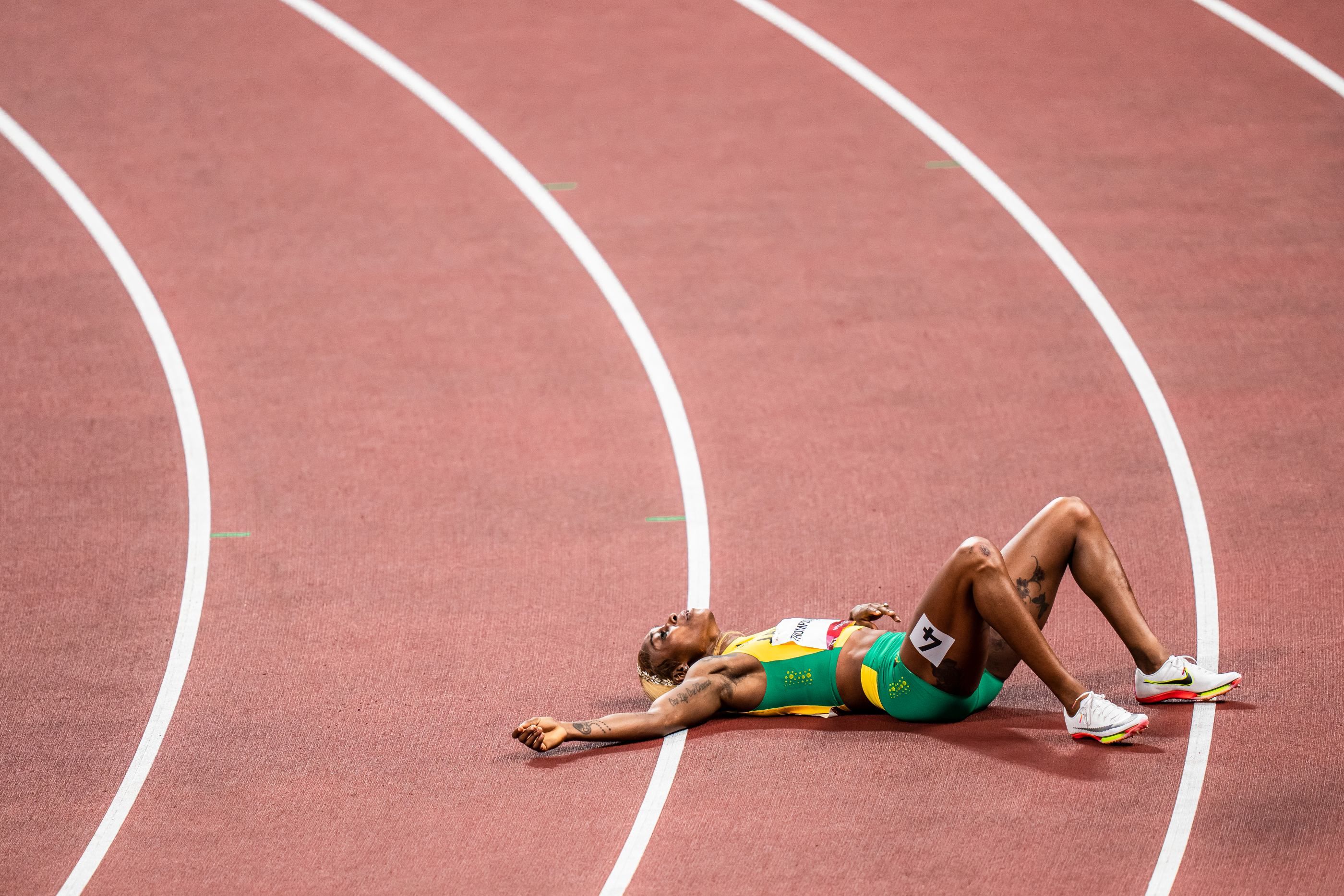 (© Christel Saneh)
"I couldn't find the words," she said later. "I screamed so loud because I was so happy.
"I've been injured so much. I'm grateful I could get back out on the track this year to retain the title. I've been keeping faith all this time. It is amazing."
Performances achieved in the build-up to the Games had put the women's 100m well and truly in the spotlight, with eight women having dipped under 10.90 in the months leading up to Tokyo. The final more than lived up to its top billing.
As the clock approached 9.50pm local time at Tokyo's Olympic Stadium, the lights dimmed before the track was illuminated in turn with the name of each athlete in the final. Then it was time for the athletes themselves to light up the track.
Fraser-Pryce, making a bid to become the first woman to win a single individual Olympic athletics event three times, got a strong start but she and Thompson-Herah were neck and neck by half way. From there, Thompson-Herah seemed to find another gear and she powered away to become the fourth woman to successfully defend the Olympic 100m title.
For Fraser-Pryce, it is another medal to add to an incredible collection which also features her two 100m golds from 2008 and 2012, plus 200m and 4x100m silvers and 100m bronze collected during the past two Games. During that time she has also become a nine-time world champion and a mother to son Zyon, and the 34-year-old had led the season top list going into Tokyo with her 10.63 – which now sees her sit third on the world all-time list – from Kingston in June.
"The aim of an athlete lining up, of course, is always to win but that didn't happen tonight," she said. "But I am still very grateful to make the final and to be able to stand at the podium at my fourth Olympic Games.
"Putting it in perspective, I am really grateful for the opportunity that I had tonight.
"I am really excited that female sprinting is going to another level, and that is truly remarkable. It speaks for the depth that we have in terms of females."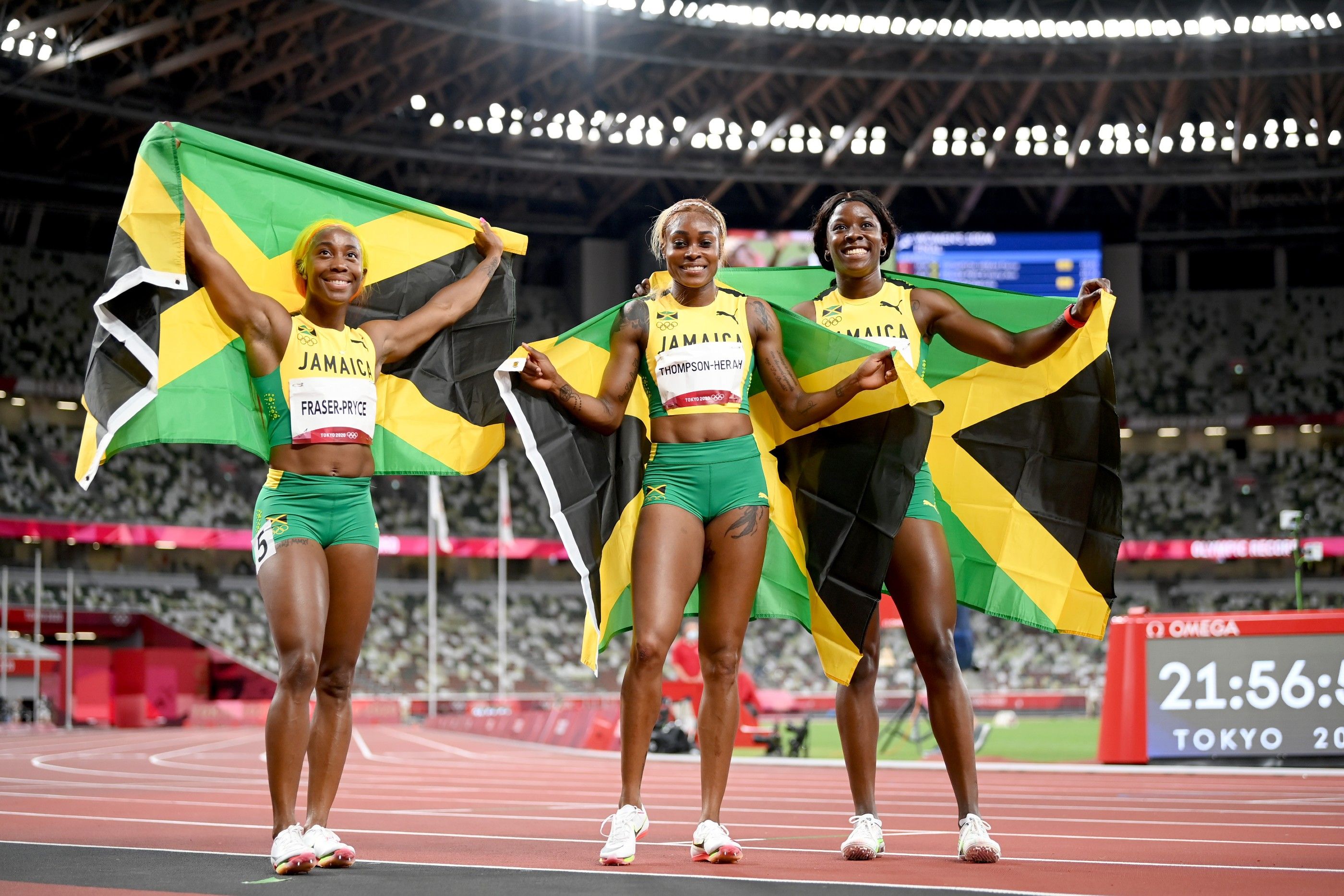 Before these Games, only five sub-10.80 times had ever been run at the Olympics. But in the semifinals alone, four were recorded as Fraser-Pryce eased over the line in 10.73, Thompson-Herah clocked 10.76, Ta Lou ran 10.79 after equalling the African record with 10.78 in her heat and Jackson also clocked 10.79.
Neita had made the final by a thousandth of a second, running 11.00 (.992) to pip Trinidad and Tobago's Commonwealth champion Michelle-Lee Ahye's 11.00 (.993). But Neita's British teammate Dina Asher-Smith, the world 200m champion who also claimed 100m silver in Doha two years ago, was left in tears after injury caused an early end to her Olympics campaign. After finishing third in her semifinal in 11.05, the national record-holder with 10.83 explained how she had torn her hamstring at the British Championships and she later announced her withdrawal from the 200m in Tokyo.
Now Thompson-Herah will attempt to complete a second successive Olympic double, with Fraser-Pryce, Jackson, Ta Lou and Kambundji among the athletes all set to join her in a return to the track for the 200m heats on Monday (2).
Jess Whittington for World Athletics
WOMEN'S 100m MEDALLISTS ? Elaine Thompson-Herah ?? JAM 10.61 OR ? Shelly-Ann Fraser-Pryce ?? JAM 10.74 ? Shericka Jackson ?? JAM 10.76 PB Full results